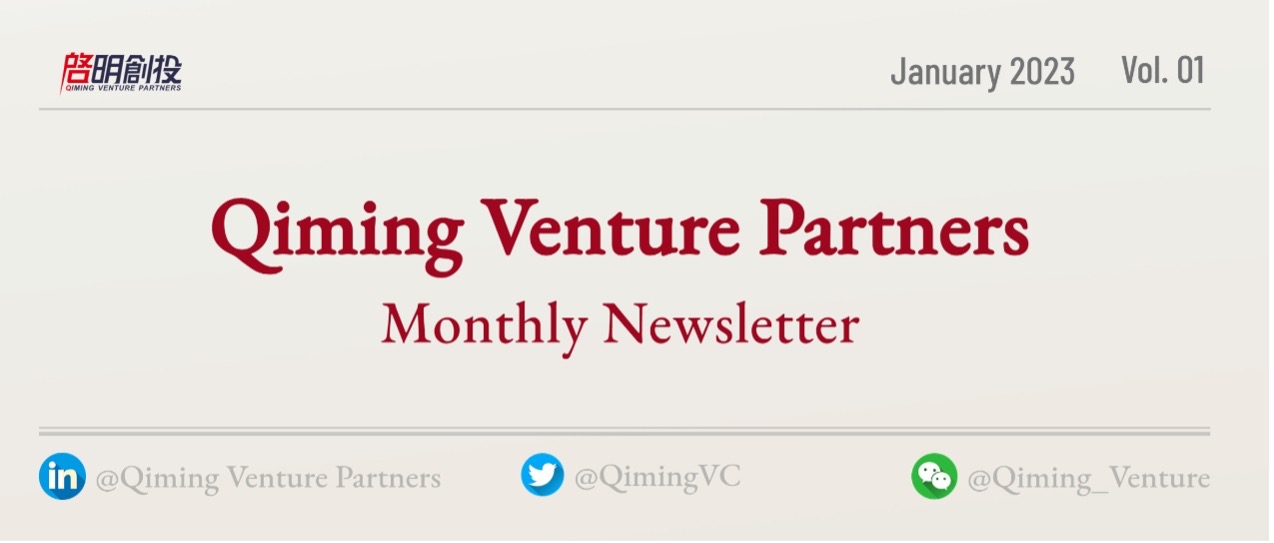 Qiming Updates
ESG
• On January 10, 2023, Qiming Venture Partners and China Foundation for Rural Development jointly held the 2022 Annual Work Exchange Meeting of the "Qiming Venture Partners·China Rural Revitalization Entrepreneur Support Program" in Beijing, sharing the 2022 annual progress of the China Rural Revitalization Entrepreneur Support Program.
Insights
• Managing Partner Nisa Leung shared her experience and vision to solve as many incurable diseases as possible and her confidence in China's healthcare companies in a Forbes profile story.
• Shiyu Wang, Partner of Qiming Venture Partners focusing on the consumer sector, spoke with Glossy about different approaches by Chinese beauty brands to stand out in the market, highlighting business growth in SEA and other growing global markets.
Awards
• Forbes 50 over 50: Asia 2023 List - Nisa Leung
• Golden Investment Prize List of CVCRI 2022 China Venture Capital Annual List - TOP4 Chinese Influential VC Investment Institutions, China's Most Popular VC Investment Institutions among LPs - Qiming Venture Partners; TOP4 Influential Venture Capitalists in China - Nisa Leung
• 2022 TOP IPO Investment Institutions by IPOzaozhidao - Qiming Venture Partners; Value Catcher of the Year - William Hu, Managing Partner of Qiming Venture Partners
• TOP 10 Most Popular IRs of FOFWEEKLY's 2022 TOP 100 People in the Equity Investment Industry - Janet Yu, Partner of Qiming Venture Partners
• 2022 China-fof.com Annual List - TOP6 Best VC Fund, TOP5 Best Fundraising Firm with Direct Investment, and TOP4 Best Exit Firm with Direct Investment - Qiming Venture Partners; TOP30 Most Popular VC Founding Partners among FOF - Duane Kuang
Portfolio Highlights
ESG
• Caidya launched an actionable and measurable ESG strategy to ensure long-term value and change for all stakeholders. The company's initiatives include reducing its carbon footprint and reducing and reusing resources.
IPO
• QuantaSing Group Limited (NASDAQ:QSG) successfully listed on Nasdaq. Qiming Venture Partners led QuantaSing's Series C financing in 2018 and continued to invest in Series D and Series E financing. The successful IPO is also the first IPO Qiming has welcomed in 2023.
Financing
• Inscinstech completed three rounds of financing worth nearly RMB 150 million - Series A+, Series B and Series B+. The B+ funding round was led by Qiming Venture Partners. The funding will be used for the R&D of biopharmaceutical upstream CMC process tool products, production capacity improvement, and global market expansion.
• Shanghai ECO Polymer secured hundreds of millions of RMB in its Series B+ co-led by Qiming Venture Partners. The funding will be used to further iterate R&D capabilities, optimize product performance, recruit talents, and improve operational capabilities.
• TINGSN Technology secured over 100 million RMB in its Series B round of financing led by Qiming Venture Partners. The financing will be used for the mass production of ICE products, R&D team expansion, and new product development.
• Singular Medical raised a Series B+ round to ramp up clinical trials and Qiming Venture Partners re-upped this time.
• Biotree announced the completion of Series A+ funding worth of tens of millions of RMB with continued participation from Qiming Venture Partners.
• Koutech raised Series A+ round worth of tens of millions of USD, only 3 months after its Series A round led by Qiming Venture Partners. The proceeds will be used in the company's overseas registration, product R&D, and team expansion.
Progress
• WeRide announced that its Robobus has been officially granted an autonomous driving road test permit in Beijing, marking the 1st autonomous driving landing progress WeRide has achieved since 2023 and the 1st test permit Beijing has issued for the unmanned shuttle bus.
• CanSino Biologics (SEHK:6185, SHSE:688185) reported positive interim data of safety and immunogenicity on its experimental COVID-19 mRNA booster vaccine dubbed CS-2034 in the phase IIb clinical trial.
• Zai Lab (NASDAQ:ZLAB, SEHK:9688) recently announced that the National Reimbursement Drug List released by China's National Healthcare Security Administration has included both Qinlock (ripretinib) and Nuzyra (omadacycline).
• Insilico Medicine's breakthrough new paper was published in the journal Chemical Science using AlphaFold for novel target discovery and novel drug design with the company's Pharma.AI platform. The company also announced positive topline results from the Phase I clinical trial of INS018_055 and the opening of its 6th generation AI-powered Intelligent Robotics Lab.
• Abbisko Therapeutics (SEHK:2256) announced that its CSF-1R inhibitor Pimicotinib (ABSK021) was granted breakthrough therapy designation from the US FDA, after the Breakthrough Therapy Drug certification by the CDE of China's NMPA in July 2022.
• Venus Medtech (SEHK:2500) announced that since the launch of TARGET CE study in December 2022, five patients were enrolled for the study with the application of Cardiovalve in Europe within one month. This marks Cardiovalve's rapid progress in tricuspid regurgitation treatment and further development toward commercialization.
• Caidya's partner Hua Yao Kang Ming Biopharmaceutical announced their recent FDA clearance of IND application for KM1. Caidya has provided customized PIND/IND filing solutions to move the asset toward both China CDE and US FDA approval.
• Tripod Preclinical Research Laboratories' partner Boan Biotech announced that its innovative ADC candidate BA1301 for injection has been approved for clinical trials by CDE of China's NMPA. Tripod Preclinical Research Laboratories has provided compliant, efficient and high-quality IND services.
Partnerships
• WeRide signed an MoU with Horizon Robotics to develop L4 autonomous driving solutions.
• TigerGraph together with Amazon Web Services (AWS) and AMD set a new standard for graph database performance at scale, completing the world's largest LDBC SNB BI benchmark on a 36TB dataset.
• Hesai Technology formed partnership with SAIC's Rising Auto. The new model of Rising Auto will be equipped with AT128, Hesai Technology's long-range automotive lidar.
• HyperStrong has signed a cooperation agreement with Newlink Naas's subsidiary company to jointly develop energy storage business to support the "dual carbon" goal.
• Gan & Lee Pharmaceuticals (SHSE: 603087) announced that its partnership with an Indonesian pharmaceutical company on the local-filling insulin glargine (prefilled pen) and insulin aspart (5 prefilled pens) achieved great results. The two locally-produced products have been approved by the Indonesia Ministry of Public Health for the treatment of diabetes.
• New Horizon Health (SEHK: 6606) announced a strategic cooperation with PHASE Scientific to jointly promote the sales of its flagship product UUTube in Hong Kong. UUTube is the 1st and only self-test certificate product for helicobacter pylori consumers approved by China's NMPA.
• CANbridge Pharmaceuticals (SEHK: 1228) secured exclusive global rights to develop, manufacture and commercialize potentially best-in-class spinal muscular atrophy gene therapy from UMass Chan Medical School.
• DK MedTech signed a collaboration agreement with Medtronic once again. Both companies will launch the project cooperation of Intracranial Rx Balloon Catheter DKloud Integral Exchange System and Rapid Exchange System based on the growing demands in current Chinese market.
• Render Biotech collaborated with QuidelOrtho on the operation of thrombosis and hemostasis products in Greater China.
Global Activity
• Mech-Mind Robotics exhibited its 3D vision solutions at the RoboDEX Expo in Tokyo, Japan. Visitors can experience the 3D cameras live in action with two different applications.
• WeRide and Hesai Technology showcased an autonomous driving vehicle with WeRide's new sensor suite SS 5.1 and Hesai Technology's new fully solid-state lidar FT120 at CES 2023.
• Infervision participated in the Radiological Society of North America (RSNA) update congress in Cologne recently. The RSNA promotes excellence in patient care and healthcare delivery through education, research, and technological innovation.
Corporate Development
• Zhihu.com (NYSE: ZH, SEHK: 2390) announced that its board of directors has appointed Henry Dachuan Sha as a Director and the Chief Financial Officer of the company.
• Structure Therapeutics announced the appointments of Eric Dobmeier with rich experience in leading biotech companies and Dr. Joanne Waldstreicher with experience in clinical and strategic leadership roles to its Board of Directors.
• Asieris Pharmaceuticals (SEHK: 688176) announced that Dr. Linda Wu will join as Chief Development Officer with a key role in strategy development and management of the corporate product portfolio and the development and execution of the global clinical pipeline.
• Tigermed (SZSE:300347, SEHK:3347) announced the completion of its acquisition of Marti Farm Ltd, a European CRO providing services across pharmacovigilance, clinical operations, regulatory affairs, medical affairs, and offering pharmacovigilance software in Europe and around the world.
• Zai Lab (NASDAQ:ZLAB, SEHK:9688) announced that Michel Vounatsos has been appointed to its Board of Directors and Rafael G. Amado, M.D. as President, Head of Global Oncology Research and Development.
Insights
• CanSino Biologics (SEHK:6185, SHSE:688185)'s executives spoke to Endpoints News on the sidelines of the 41st Annual J.P. Morgan Healthcare Conference to reflect on the unexpected challenges of developing their first COVID-19 vaccine, how that program reshaped the company and plans for the inhaled vaccine.
• At the J.P. Morgan Healthcare Conference, Antengene (SEHK: 6996)'s Founder, Chairman and CEO Dr. Jay Mei shared the company's milestones, latest development and commercialization progress of XPOVIO® (selinexor) in the Asia-Pacific region in 2022.
• Zai Lab (NASDAQ:ZLAB, SEHK:9688)'s Founder, Chair and CEO Samantha Du shared how Zai Lab is competitively and uniquely positioned to become a leading global biopharma company at the J.P. Morgan Healthcare Conference.
• Dr. Alex Zhavoronkov, Founder and CEO of Insilico Medicine, shared his insights into life sciences trends to watch for in 2023 with BioSpectrum Asia. The 23 Predictions for China biotech in 2023 include the rise in robotics, an increase in licensing to pharma companies outside of APAC, and versatile and efficient AI among others.
Awards
• 2022 VENTURE 50 List by Zero2IPO Group and PEdaily - XSKY Data Technology, Yunji Technology, DK Medtech, Berry Oncology, WeRide, Mech-Mind Robotics, ZhenGe Biotech, Insight Lifetech, GenLight MedTech, Cornerstone Robotics Limited, BUD, Xellsmart, MediLink Therapeutics, NEIWAI, Plum, etc.
• 2022 KPMG China Fintech Double 50 List - Kingsware, SequoiaDB
• 2022 Deloitte China Technology Fast 50 & Rising Star lists - Superhexa, Health Biotech, Sincere Education, DST, ZhenGe Biotech, Cornerstone Robotics, IntoCare Medical, etc.
• 2022 TOP 10 Bioanalytical Services Companies in APAC List by Life Sciences Review - Frontage Laboratories
• 2022 TOP 10 Preeminent CROs by Life Sciences Review - Sino Biological, Frontage Laboratories
• TOP 10 Companies in the Vanguard of the Rise of Humanoid Robots by Analytics Insight® - UBTECH Robotics
• 21st Century The Most Innovative Companies 50 in China 2022 by 21st Century Business Herald - Xiaomi Technology, Bilibili, Hesai Technology, SequoiaDB and Tasogare
Sources: Qiming Venture Partners, company press releases, media reports, etc.