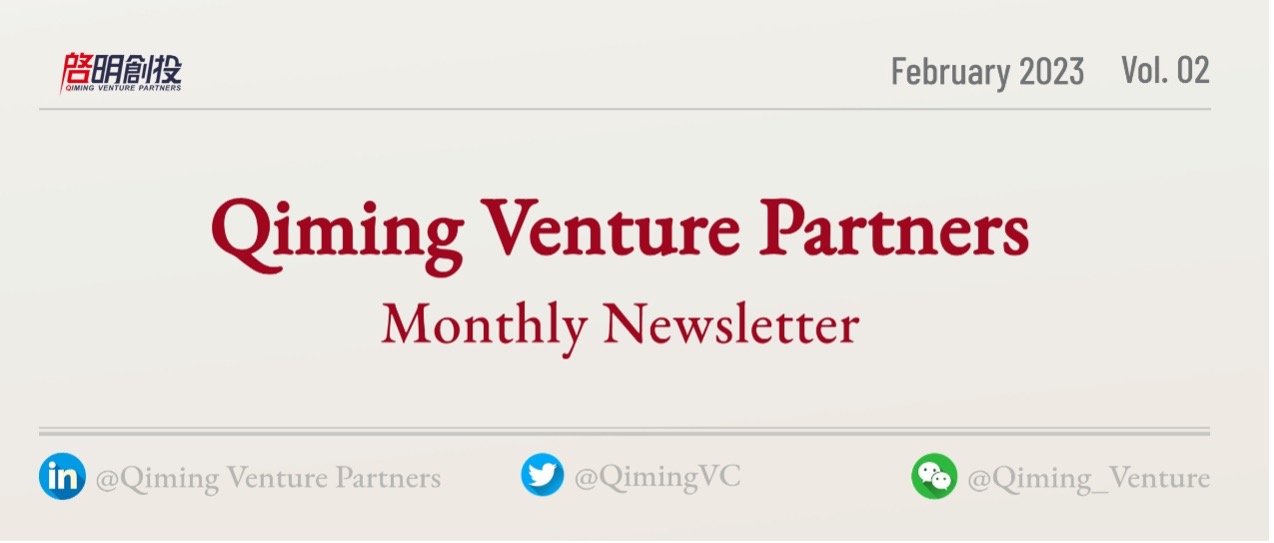 Qiming Updates
Insights
• Following on Hesai Technology (NASDAQ: HSAI)'s successful IPO on Nasdaq, Founding Managing Partner Duane Kuang highlighted Qiming Venture Partners' strategy in investing in the entire industry ecosystem. Qiming will continue to explore opportunities in the upstream and downstream of smart mobility and autonomous driving. "As a VC firm, we should understand the needs of tech startups and become a long-term backer."
• Partner Kuantai Yeh shared his thoughts on one of Yicai Words of the Year in 2022 – hard technology. He understood the term more as service to enterprise customers than consumer products and shared key factors in making investment decisions in this area: team, product, market and capital. He emphasized the essence of hard technology is science and innovation, which needs to cultivate world-class talents.
• Qiming Venture Partners' Partner Alex Zhou shared his understanding of generative AI and future VC investment opportunities in this area. He believed that the real capability of AI is not limited to painting and chatting but being integrated into the industry workflow and providing higher business value.
• Speaking of investment philosophy trends in healthcare, our Partner Kan Chen shared that life science innovation should bring clinical value, and investments are focusing more on startups' global competitiveness. More interdisciplinary approaches between healthcare and other technologies, as well as a greater emphasis on scale and efficiency are trends to watch.
Awards
• 2022 Annual Global League Tables by PitchBook - TOP3 Most Active VC in Greater China, TOP21 Most Active VC at Early Stage Globally, TOP4 Most Active VC in HC Devices & Supplies, TOP5 Most Active VC in Pharma & Biotech, TOP10 Most Active VC in IT Hardware, and TOP21 Most Active VC in HC Services & Systems (Read More)
• Private Equity Association of Shanghai (PEAS) 2022 Annual Equity Investment List - Best Investment Institution, Most Active Investment Institution, and Best Exit Investment Institution - Qiming Venture Partners; Best Investor of the Year - Duane Kuang; Best Healthcare Investor - William Hu; Best Investor in the IT industry - Kuantai Yeh; Best Investor in the Consumer industry - Bonnie Wang; Best Investor in the Advanced Manufacturing Industry - Nan Chen; Future Stars - Yi Tang
Portfolio Highlights
ESG
• LanzaTech (NASDAQ: LNZA)'s project "RESTORE: Replenishing EcoSystems by Transforming Residues to Energy" was selected by the U.S. Department of Energy (DOE) to accelerate the production of sustainable biofuels for America's transportation and manufacturing needs. (Read More)
IPO
• LanzaTech (NASDAQ: LNZA), an innovative leader in carbon capture and transformation, listed on Nasdaq on February 10 Beijing Time via SPAC merger. (Read More)
• Hesai Technology (NASDAQ: HSAI), a global leader in LiDAR technology, began trading on Nasdaq. (Read More)
• Structure Therapeutics (NASDAQ: GPCR), a clinical stage global biopharmaceutical company focusing on novel oral small molecule therapeutics, successfully debuted on Nasdaq on February 3 Beijing Time. (Read More)
Financing
• Mafengwo, China's largest online traveling community, completed a new round of fundraising. The proceeds will be used to establish supply chain and content system.
• Curie.Bio raised $520 million recently. Acting as both a drug discovery copilot and seed investor, Curie.Bio provides biotech startups with seed-stage money plus professional expertise and service of company operation, which lays a solid foundation for a successful series A funding round. (Read More)
• Hochuen Medical completed its Series B round of financing worth tens of millions of RMB. Qiming Venture Partners led its Series A round and continued to participate in this round. The funding will be used to accelerate Hochuen's CDMO business expansion in the global market, new technology and process R&D, and overseas capacity expansion.
• Oricell Therapeutics announced the closing of its $45M Series B1 round, with continued participation from Qiming Venture Partners. The new injection of capital will be utilized primarily to support the company's core product clinical development in the US. (Read More)
• Desano announced the completion of its Pre-IPO round of financing, which is one of the largest private equity financing deals in China's pharmaceutical sector in 2022.
Progress
• Roborock (SHSE: 688169) launched a molecular sieve all-in-one washer dryer H1 with Zeo-cycle™ molecular sieve low-temperature drying technology.
• Xiaomi Technology (SEHK: 1810) recently introduced its latest breakthrough in AR technology - Xiaomi Wireless AR Glass Discovery Edition and other new products.
• The first public self-driving bus line jointly developed by WeRide in Guangzhou Science City of Guangdong province was officially launched. This innovative experiment of intelligent transportation will provide passengers with a fresh way of commuting.
• Gan & Lee Pharmaceuticals (SHSE: 603087) announced that the first Chinese insulin Biologics License Application (BLA) submission was officially accepted by the US FDA. (Read More)
• CanSino Biologics (SEHK: 6185, SHSE: 688185) announced that Preprints with The Lancet recently published the phase IIb trial results of CanSinoBIO's mRNA COVID-19 vaccine CS-2034. The latest study shows encouraging results of CS-2034 as heterologous booster. Additionally, a new study of the sequential booster of CanSinoBIO's inhaled COVID-19 vaccine in children and adolescents shows good safety and efficacy. (Read More)
• Scientists from Insilico Medicine have published in the Journal of Chemical Information and Modeling on the use of its generative AI Chemistry42 platform to quickly design novel molecular structures that target proteins that play essential roles in disease progression. The company's first anti-fibrotic drug candidate INS018_055 was also granted orphan drug designation (ODD) by the US FDA and its first generative AI-designed drug ISM3312 for COVID-19 and variants received clinical trial approval from China's NMPA. (Read More)
• Zai Lab (NASDAQ: ZLAB, SEHK: 9688) announced that China's National Medical Products Administration (NMPA) has accepted the New Drug Application (NDA) for sulbactam-durlobactam (SUL-DUR).
• APT Medical (SHSE: 688617) announced the completion of patient enrollment in the premarket clinical trials of its pulsed field ablation (PFA) system. APT Medical obtained Brazil ANVISA (Brazilian Health Regulatory Agency) approval of several peripheral products including adjustable valve guiding sheath, guidewire, balloon occlusion microcatheter, and guiding sheath.
• Venus Medtech (SEHK: 2500) successfully treated the first VenusP-Valve patient in Poland, which represents another progress in rolling out its technology within Europe. The company also announced that Cardiovalve TR is approved for clinical trials in Spain.
• Asieris Pharmaceuticals (SHSE: 688176) announced that one of its late-stage investigational drugs, APL-1202, helped UCSF Health, save the life of a man suffering from a rare brain-eating amoeba. The registration applications for its single-use, handheld electronic cystoscope cannula Uro-G and electronic endoscope image processor Uro-3500 were accepted by China's NMPA. (Read More)
• Abbisko Therapeutics (SEHK: 2256) announced that ABSK121, a next-generation small molecule FGFR inhibitor overcoming FGFR resistance mutations, has obtained clinical trial approval from China's NMPA.
• Connect Biopharma (NASDAQ: CNTB) announced that its CBP-201 Phase 2 global trial in patients with moderate-to-severe asthma with Type 2 inflammation (WW002) has reached its full targeted enrollment.
• Shukun Technology obtained NMPA Class III medical device registration certificate of Shukun-FFR, a CT-FFR intelligent assessment system, by China's NMPA.
• Beijing has begun inoculating SinocellTech (SHSE: 688520)'s COVID recombinant protein bivalent vaccine SCTV01C, China's first multivalent vaccine that can provide broad-spectrum protection against COVID variants.
• Infervision launched its first InferScholar project in Spain, setting a new standard for how healthcare providers can use AI to make an impact on patient outcomes.
Partnerships
• Several portfolio companies including Zeen Health, AI Prime, DeepWay will be among the first ecological partners of Baidu's Ernie Bot to fully experience and access the abilities of Baidu's leading intelligent dialogue technology.
• LanzaTech (NASDAQ: LNZA) announced a collaboration with Abu Dhabi Waste Management Company - Tadweer to develop a large-scale conversion plant for transforming solid municipal waste into sustainable alternative fuel. (Read More)
• Insta360 Link, the powerful 4K webcam using AI to redefine remote work, is now certified for Tencent Meeting, becoming the first AI PTZ webcam certified by two major domestic video conference platforms in China. Insta360 has also joined hands with Harley-Davidson Motor Company and is the newest partner of H.O.G (Harley Owners Group) to chronicle motorcycle riders' epic adventures and travel stories.
• GYENNO SCIENCE was selected in Microsoft for Startups' Spring 2023 entrepreneurship accelerator program.
• CanSino Biologics (SEHK: 6185, SHSE: 688185) and Solution Biologics Sdn. Bhd. jointly announced that the first bulk shipment of the active pharmaceutical ingredients (APIs) of CanSinoBIO's COVID-19 vaccine (Convidecia®) in bulk form has arrived in Malaysia.
• Asieris Pharmaceuticals (SHSE: 688176) forged a research collaboration and option-to-license agreement with ReviR Therapeutics to discover and develop innovative treatments for genitourinary (GU) tumors and other related serious diseases. (Read More)
• Zencore Biologics signed a strategic partnership agreement with Cobetter to explore and co-develop cutting-edge biological consumables and collaborate closely on brand and product promotion.
• DPTechnology and Jing Medicine, an innovative biotechnology company, announced cooperation to jointly promote the R&D of new small molecule drugs targeting tumors through the combination of AI and physical simulation.
Global Activity
• Pluslife Biotech participated in the Medlab Middle East 2023, showcasing its innovative eight-channel POC molecular analyzer, integrated nucleic acid testing device Mini Dock, testing cards covering respiratory tract infections, animal diseases, etc. to provide visitors with better molecular POC solutions.
• MicroTech Medical (SEHK: 2235) participated in the 2023 Arab Health Exhibition, partnering with regional distributors and KOLs to push the accessibility of continuous glucose monitoring (CGM) and continuous subcutaneous insulin infusion (CSII) and help people with diabetes lead a healthy life.
• Frontage Laboratories participated in the Summit for Clinical Ops Executives (SCOPE) Summit 2023.
• NUROTRON participated in the IFOS Dubai - ENT World Congress 2023, presenting its cochlear implants and other products.
Corporate Development
• New Horizon Health (SEHK: 6606) opened a new R&D center in the HKSTP (Hong Kong Science and Technology Parks). The total investment is expected to be HK$100 million over the next five years. (Read More)
• SinoUnited Health opened its sixth clinic in Shanghai - Tianshan Clinic in February 2023. Tianshan Clinic offers a variety of skincare and health screening services with "general practice + specialty" model. (Read More)
• Lantheus, a Nasdaq-listed company, announced it has acquired Cerveau Technologies, our portfolio company Sinotau Pharmaceuticals' joint venture in the US, with an upfront payment and potential additional development and commercial milestone payments. This acquisition marks an important milestone in the development of molecular imaging.
• Hope Medicine announced that Nathan Chen will serve as Chief Executive Officer and join the board of directors to lead and accelerate the progress of the company's major clinical projects, while focusing on development to ensure that more R&D pipeline products will reach clinical milestones and fully realize the company's strategic goals.
Insights
• Dr. Bowen Zhou, Founder of Frontis analyzed that the improving collaboration between AI and people, as well as interactive learning ability represent the core progress of ChatGPT. He also highlighted the significance of ChatGPT's interaction paradigm in the real-world industry.
• TigerGraph Founder and CEO Dr. Yu Xu recently shared the company's unique strengths to gain widespread adoption and how TigerGraph steered the database community on the NYSE Floor Talk. (Read More)
Awards
• 8 Leading AI Drug Discovery Biotechs by Business Insider - Schrödinger and Insilico Medicine (Read More)
• VIGOROUS 100 Ranking List by ChinaVenture - Mech-Mind Robotics, Shukun Technology, Tungee, WeRide, Zencore Biologics
• 2022 New Unicorn Companies List by Forbes China - ROX Motor, Mech-Mind Robotics, Zencore Biologics, etc.
• 50 Digital Health Companies China by DeepTech - Fortune Care, Clinical Decision Support System, Insilico Medicine, Shukun Technology, Infervision, Slan Health and WeDoctor
• Best Data and AI Product or Technology: Analytics Database (Editor's Choice) by BigDATAwire – TigerGraph (Read More)
• The Power 500 Software Companies of 2023 by Software Report - Schrödinger and TigerGraph (Read More)
• Second KPMG China Emerging Consumer Brands 50 Report and List – Superhexa
• Best Places to Work for 2023 by Built In – Schrödinger (Read More)
Sources: Qiming Venture Partners, company press releases, media reports, etc.