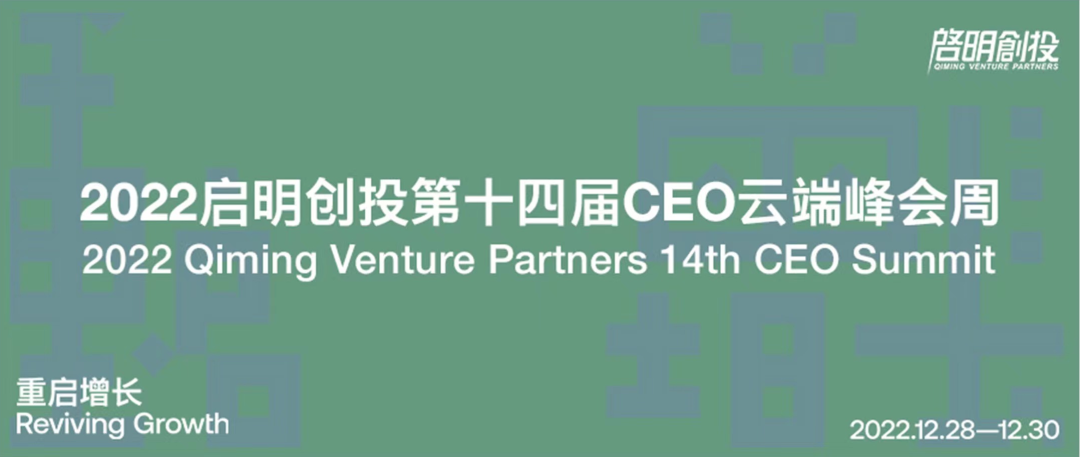 The 2022 Qiming Venture Partners 14th CEO Summit was successfully held from December 28-30, 2022. Hosted by Qiming Venture Partners, the flagship CEO Summit event has been running for 14 years, aiming to provide an opportunity and platform for CEOs to exchange ideas, witness the pioneering power of technology and innovation, discuss opportunities and challenges in the face of big changes, and look into future developments and trends.
The theme was "Reviving Growth", covering various topics in the Technology & Consumer and Healthcare sectors, and focusing on innovation and entrepreneurship, strategic decision-making, R&D strategy and management, operations management, team building, financing, sustainable development, global expansion, etc.
One guest speaker of honor, 13 members from Qiming's investment team, and 13 entrepreneurs from Qiming's portfolio companies joined the discussion and exchange ideas.
The three half-day summit attracted a large online audience, including founders, CEOs and executives of Qiming's portfolio companies, LPs of Qiming's USD and RMB funds, industry professionals, media, etc.
Day 1
Opportunities
Each day, a Managing Partner will present macro insights, investment performance, startup selection, post-investment management and services from different perspectives in the new "Sharing with Entrepreneurs" session.
In the first session, Duane Kuang, Founding Managing Partner of Qiming Venture Partners, delivered an opening speech titled "Review and Prospect: 2023 Outlook", sharing the latest developments of Qiming Venture Partners and insights on China's innovation and entrepreneurship sector. In 2022, Qiming completed $3.2 billion fundraising against the backdrop of a cooling investment and financing environment, while maintaining a proactive investment momentum with approximately 50 new investments, 40 follow-on investments, and over 70 new rounds of financing for Qiming's portfolio companies. In terms of exits, Qiming had 8 IPOs, and improved its post-investment service team to provide comprehensive services to portfolio companies in 2022.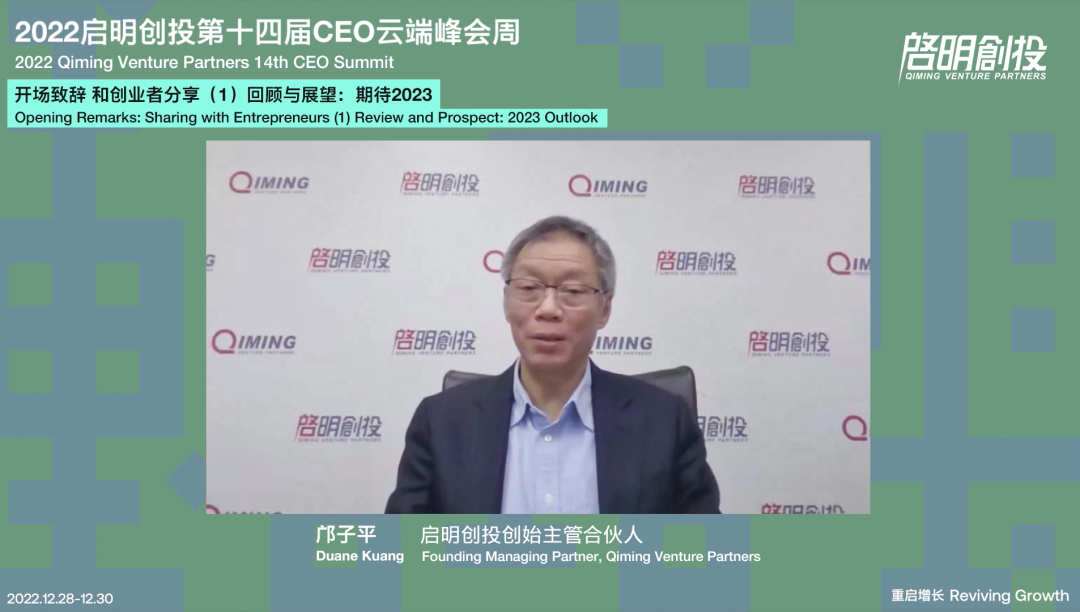 Looking ahead, Duane said that 2023 is a year full of uncertainties: China still faces many domestic and international challenges, and pains in the development paradigm shift that have been temporarily overshadowed by the pandemic are not solved yet. However, 2023 is also a year to look forward to, as post-pandemic China breeds many opportunities for development and calls for aspiring and talented entrepreneurs, driven by the rebound of consumption, the society's embrace of science and technology, and the increase in investment and financing activities. The year 2023 is worthy of great efforts.
As special guest of honor, Liu Qing, Zijiang Distinguished Professor at East China Normal University and Daguan Scholar, gave a keynote speech titled "Contemplation in the face of turbulent times". He shared the characteristics, underlying logic and "paradigm shift" in today's world, and explained how we should understand, perceive, and think about this turbulent new era. Liu Qing said that there is no chance of an outburst or shortcut. There are no easy options in tough times, so we need to stay resourceful, acknowledge the unknown, and live with uncertainty.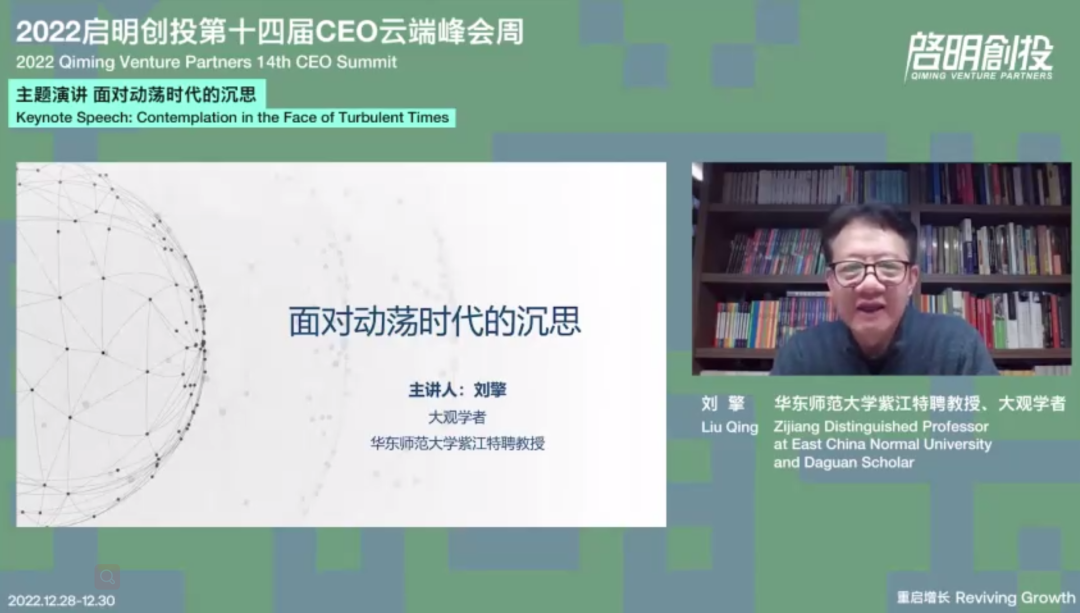 Following the speech were three sessions of "Dialogue with CEO" to discuss how companies can find opportunities to break through and create value in a competitive market.
Qiming's Founding Managing Partner, Duane Kuang, and WeRide's Founder and CEO Tony Han had an in-depth conversation sharing the progress of WeRide's five major product lines, team building and corporate culture, as well as their outlook on an autonomous driving future. Speaking of his vision for WeRide, Tony Han said that he hopes WeRide will not only develop cool autonomous driving technologies, but also truly mature products that will be valuable in the lives of ordinary people and help solve the problems of human society.
On the topic of "Original Innovative Drug in China", Qiming's Managing Partner William Hu talked to Jim Wu, Founder, Chairman and CEO of ArkBio, who introduced RSV and the founding story of the company and analyzed the advantages of globalization for Chinese innovative drug companies and ArkBio's differentiation strategy. According to Jim Wu, startups must understand and do a better job than big pharma in a certain field to survive and stand out, accomplishing what big companies have not yet done.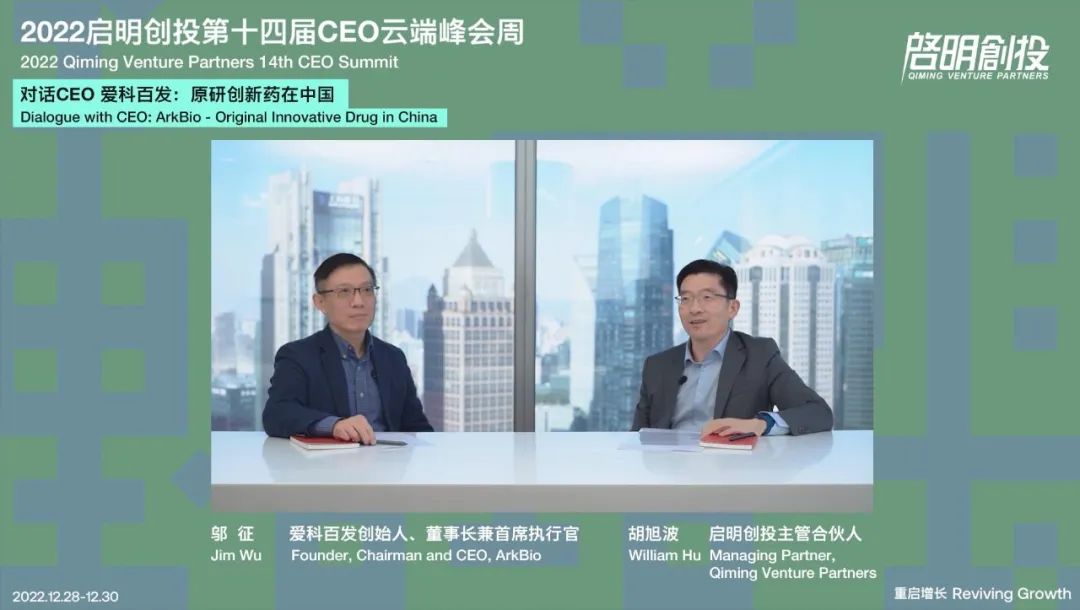 Speaking with Qiming's Partner Alex Zhou, Gu Jing, Founder, Chairman and CEO of Viewtrix, shared how the startup broke through the fierce competition from international giants and became a leading player in display driver IC sector in China. Gu Jing believed that the reasons for Viewtrix's success can be attributed to the breakthrough of technologies and long-term deep cooperation with partners to understand the needs of clients. Gu Jing also revealed that Micro-OLED and Micro-LED are some key technologies in the development of metaverse, and Viewtrix has already been in the process to build unique technical and product advantages.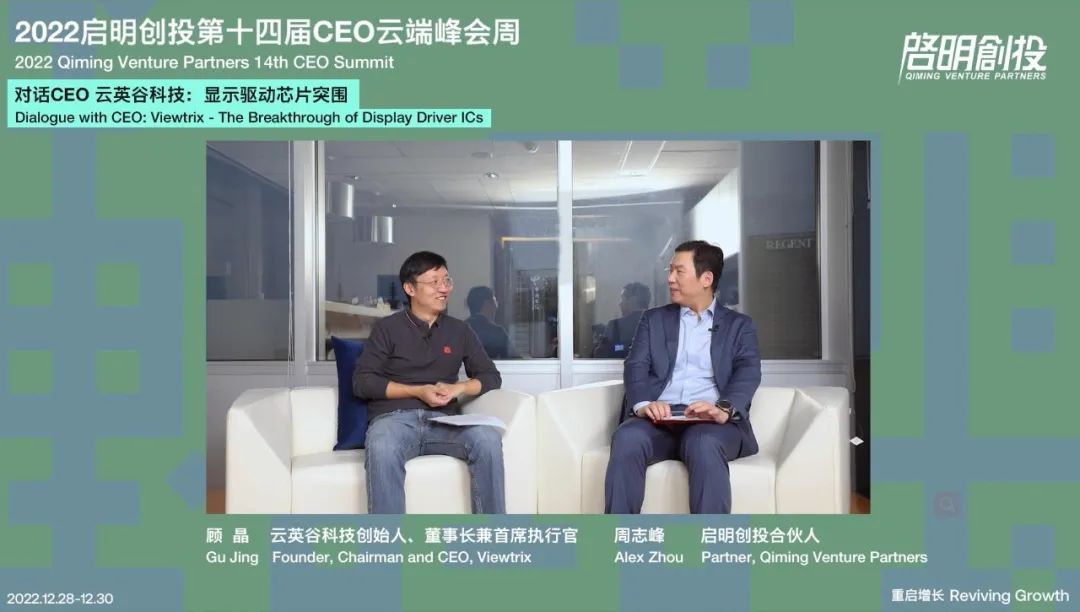 Day 2
Challenges
During the second "Sharing with Entrepreneurs" session, Qiming's Managing Partner Nisa Leung opened Day 2 with "Responsibility and Accountability: Fostering the Future Entrepreneurs" speech. She noted that Qiming has always been a friend of entrepreneurs, focusing on early-stage investment, core technology, and true innovation, and Qiming hopes to be not only the first investor but also the most important investor for companies.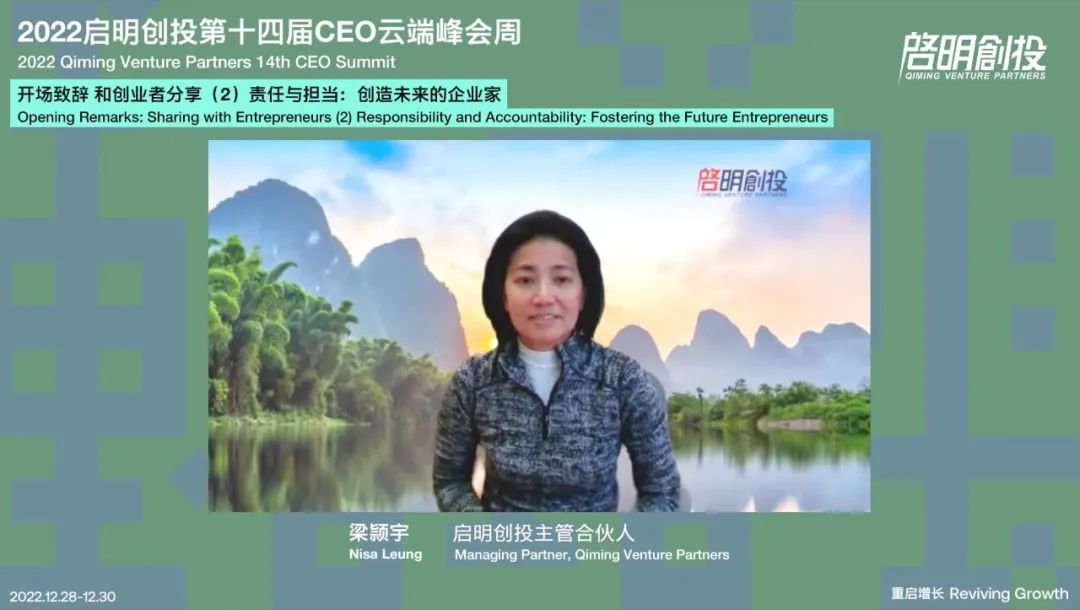 Since its inception, Qiming has invested in nearly 200 healthcare companies, of which 120 have grown into market leaders, over 60 have grown into leading companies in their fields, over 40 have successfully completed IPO or M&A, and nearly 40 have grown into unicorns; in the past 17 months, over 70 healthcare companies have successfully completed new rounds of financing.
Nisa believed that complex international environment and recurring pandemic have intensified the uncertainty of the global economy in 2022. Chinese entrepreneurs are facing unprecedented challenges with unexpected changes. Under the economic downturn, Qiming remains bullish on healthcare development in China. China has an increasingly mature R&D innovation ecosystem: the return of science talents, the advancement of basic research, the accumulation of rich clinical studies and lower clinical trial costs, faster product iterations, and the improvement of preclinical and clinical CRO biomanufacturing infrastructure. All these developments will support China's emergence as one of the key sources of global innovation, and China's healthcare technology is moving from imitation to innovation-driven status.
5 sessions of "Dialogue with CEO" were held on Day 2. During the first session titled "How Roborock was Tempered", Duane Kuang spoke with Founder and Chairman of Roborock (SHSE: 688169) Chang Jing about key strategic decisions in the company history, covering issues such as cross-border entrepreneurship, global strategy, organizational management, talent development and CEO's self-improvement. Chang Jing believed that when the business requires continuous investment of resources for iterations, it is necessary to keep the focus on the category. When a certain category stop growing and resources overflowing, the opportunity for diversification will come naturally. Focus and diversification are not opposites, but rather unified, with the root being company's organizational capacity.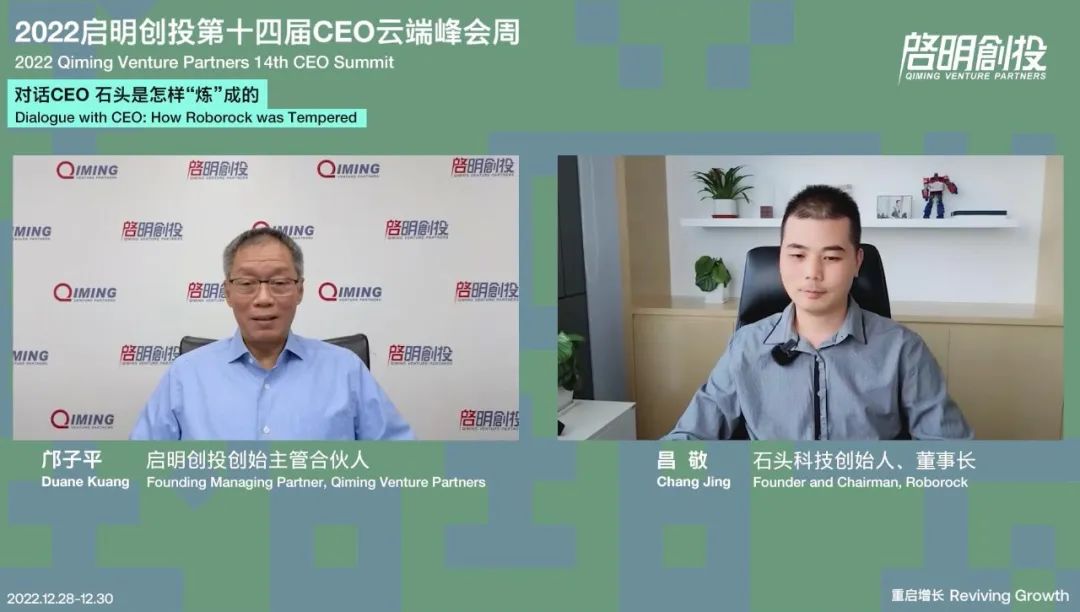 In 2022, Qiming's portfolio company Transwarp (SHSE: 688031), a leading enterprise big data infrastructure software developer in China, successfully listed on the STAR market and was regarded as the first domestic big data infrastructure software stock. Kuantai Yeh, Partner of Qiming Venture Partners and Sun Yuanhao, Founder and CEO of Transwarp, had an in-depth conversation themed "Redefine the Big Data Infrastructure Software". Sun Yuanhao shared how the company stood out in a market dominated by giants by focusing on original products and technologies. He believed that the key to product market success is adhering to "product is king, technology must win" principle, perfecting their products and breaking the boundaries.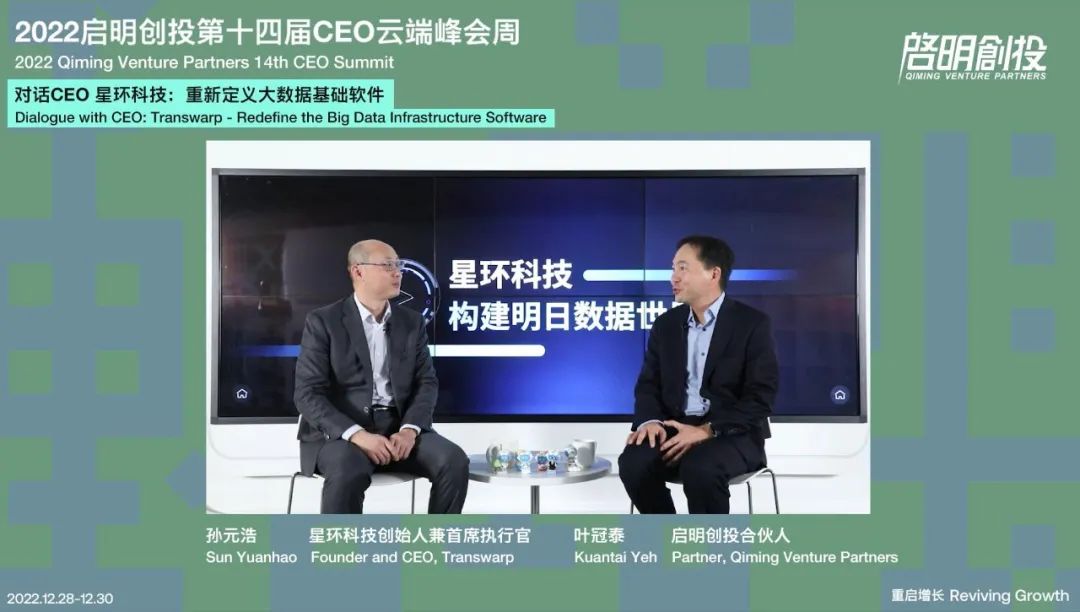 Sharing insights on "Market-driven Strategy of High-end Network Chips", Cao Tuqiang, Founder and CEO of Clounix, introduced the founding process of Clounix and analyzed the differences in building technology startups in China and the US with Chen Nan, Principal of Qiming. As a former global executive of a Fortune 500 company and an entrepreneur, Cao Tuqiang summarized the typical growth path of US hard tech startups and the lessons learned. He pointed out the importance of the market and customers to Clounix, and that Clounix teams will always respect customers' requirements and reflect new changes in different generations of product lines, as it is crucial to seize market opportunities to gain a foothold and expand its market share in China.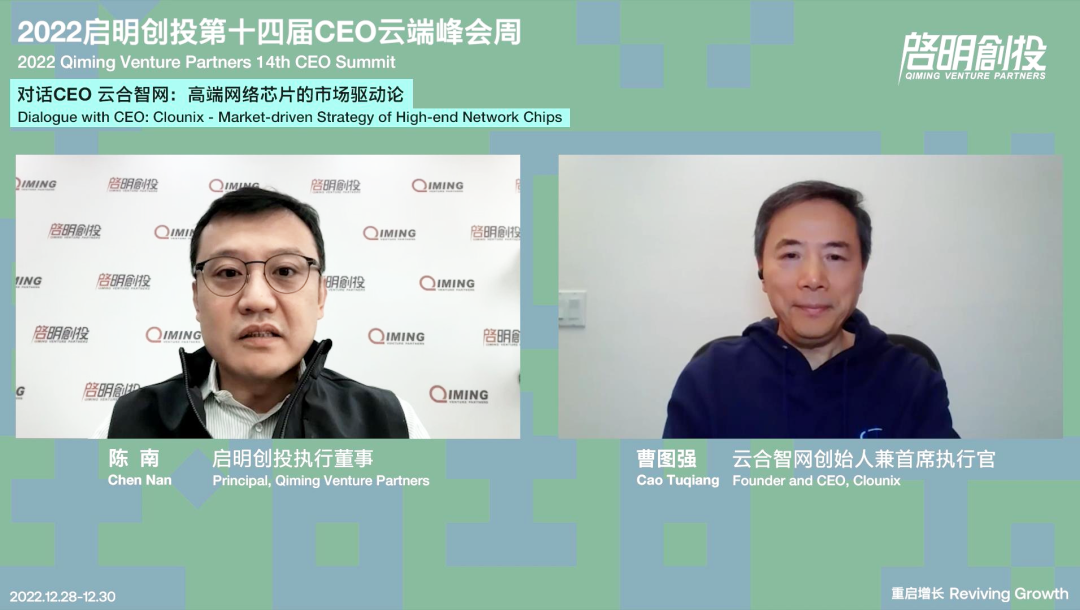 China's aging population is growing, and related social issues are becoming more prominent. As a leader in home care service, Fortune Care's Founder and CEO Zhang Jun discussed with Qiming's Principal Gao Jinda about how he decided to start business in this field, and how to contribute to industry development through talent supply and ecosystem construction. When it comes to digital innovation, Zhang Jun pointed out that digitalization is Fortune Care's exploration of future possibilities where digitalizing the needs of customers and the capabilities of employees generates better matching efficiency for customers.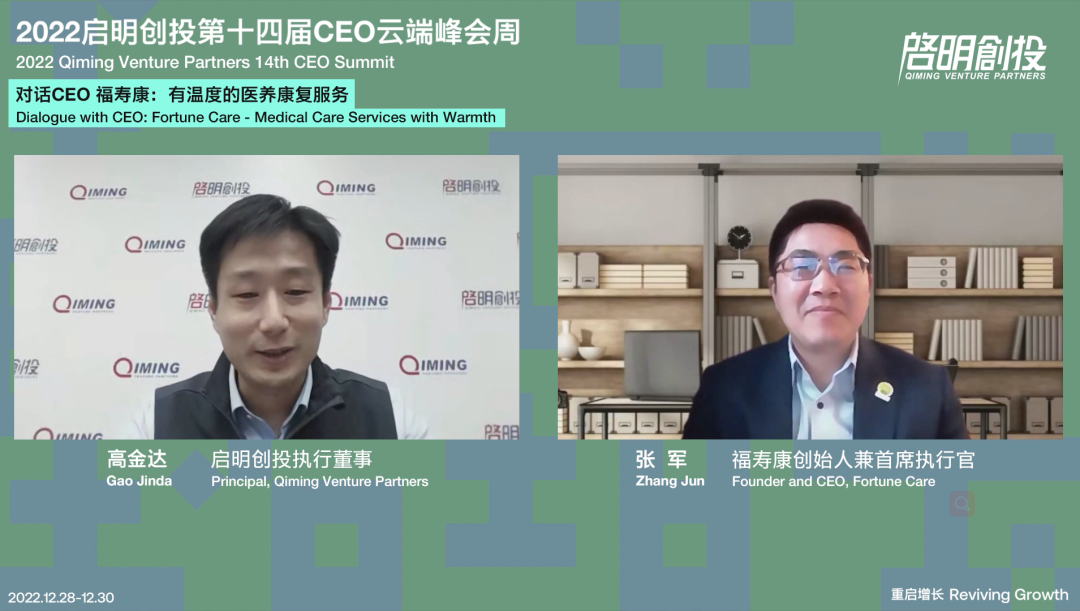 Insilico Medicine, an end-to-end AI-powered clinical-stage biotech company, has received multiple rounds of investments from leading domestic and international funds and discovered eight preclinical drug candidates in 2022. What's more, Insilico Medicine recently secured major strategic research collaboration with Sanofi and upgraded its technology platform, further demonstrating AI's ability to empower drug discovery. Chen Kan, Partner of Qiming Venture Partners talked to Ren Feng, Co-CEO and CSO of Insilico Medicine, and reviewed the company's growth history and early hardships together. Ren Feng believes that AI drug discovery space is still in its infancy and the competition is still long, and companies should focus on perfecting the technology platforms now and everyone will have a chance to succeed in the future.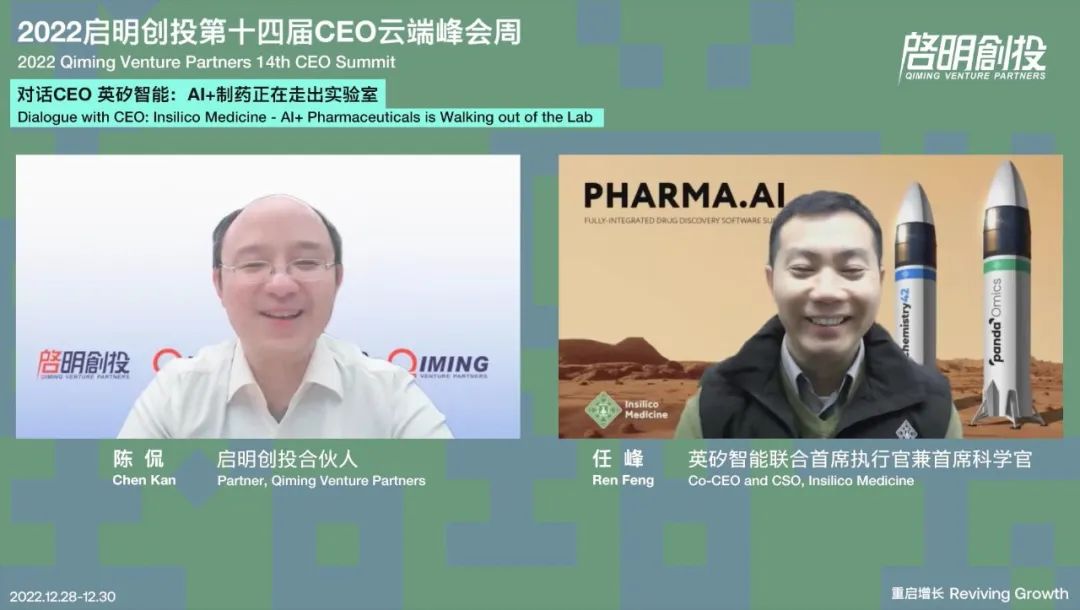 Day 3
Future
In the third "Sharing with Entrepreneurs" session, our Managing Partner William Hu highlighted Qiming's support for entrepreneurs with post-investment management and services. Entitled "Support and Accomplishment: Companion during Entrepreneurial Journey", the speech introduced 4 core competencies that Qiming provides: in-depth industry research, company growth strategy, best operational practices, and industry ecology. William also introduced how Qiming has gradually built up and improved its post-investment management and service team, as well as case studies of providing comprehensive and process cloud services for portfolio companies. William introduced how Qiming helped Tigermed (SZSE: 300347, SEHK: 3347) to merge with MacroStat to illustrate Qiming's value in strategic planning and execution.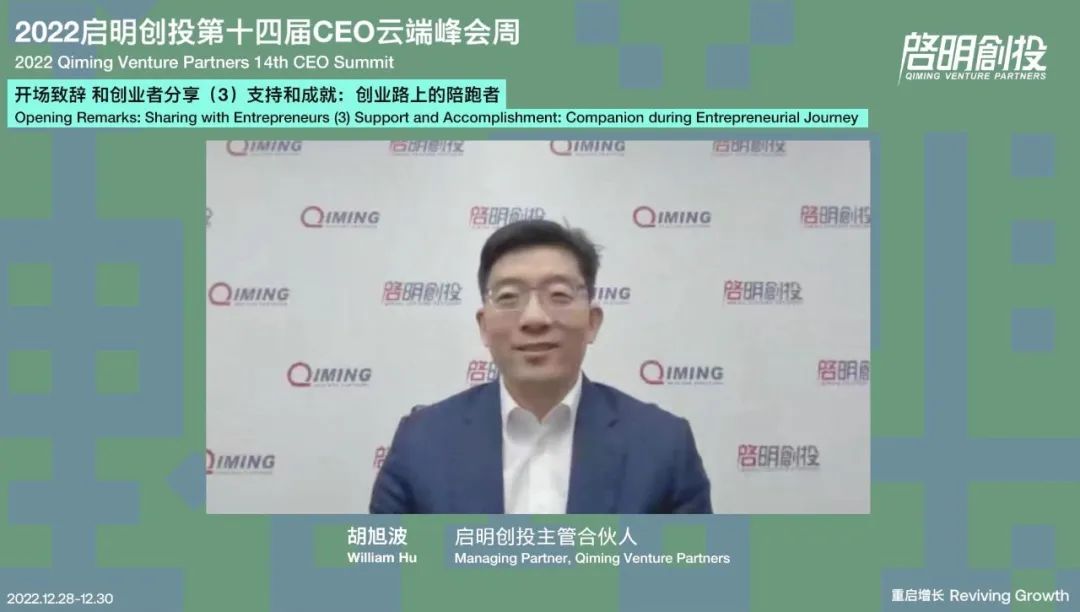 Comparing entrepreneurship to a marathon, William believed both are very challenging. He emphasized that Qiming hopes to accompany entrepreneurs and their teams all the way from investment to planning the entire journey together, providing sufficient energy support and reaching the destination together.
Chen Yiyou, Executive Director and CSO of New Horizon Health (SEHK: 6606) discussed with Nisa Leung, Managing Partner of Qiming Venture Partners. Chen Yiyou introduced team division of the company, the reasons for choosing early screening and the company's strategy to go global and analyzed how New Horizon Health broadened the perception boundary of serious medical care. He pointed out, "Cancer screening is indeed serious medical treatment, we are broadening rather than breaking the boundaries of serious medical treatment. The only way for serious medical care to bring real health economics meaning is by entering home." He believes that the popularity of products is because people are not only concerned about their own health, but also that of their families, and products that balance science and accessibility are actual good products.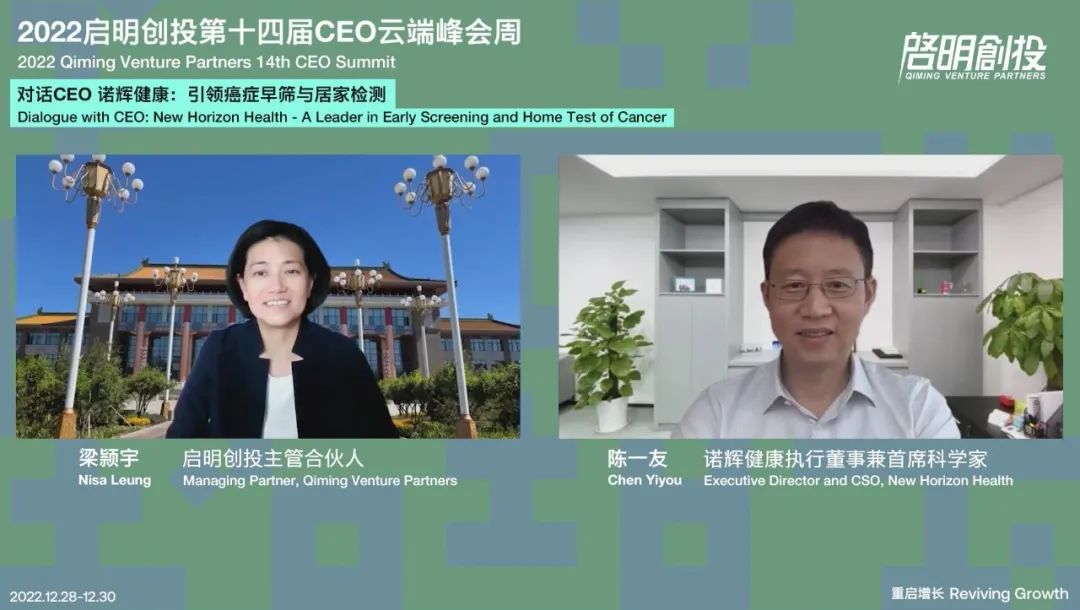 The next session took place between Qiming's Principal Oscar Zhang and Eric Zi, General Manager and Executive Director of Venus Medtech (SEHK: 2500). Eric Zi shared the accomplishments in the past year, unique advantages over international giants, and future market plan. He said that the first step of Venus Medtech's development is to firmly establish structural heart disease treatment as the cornerstone, then expand business through the cooperation with investment firms or technology incubated by Dinova Medtech, set up an international platform, accelerate the globalization of innovative medical devices, and hopefully build Venus Medtech's position as China's Medtronic in the future.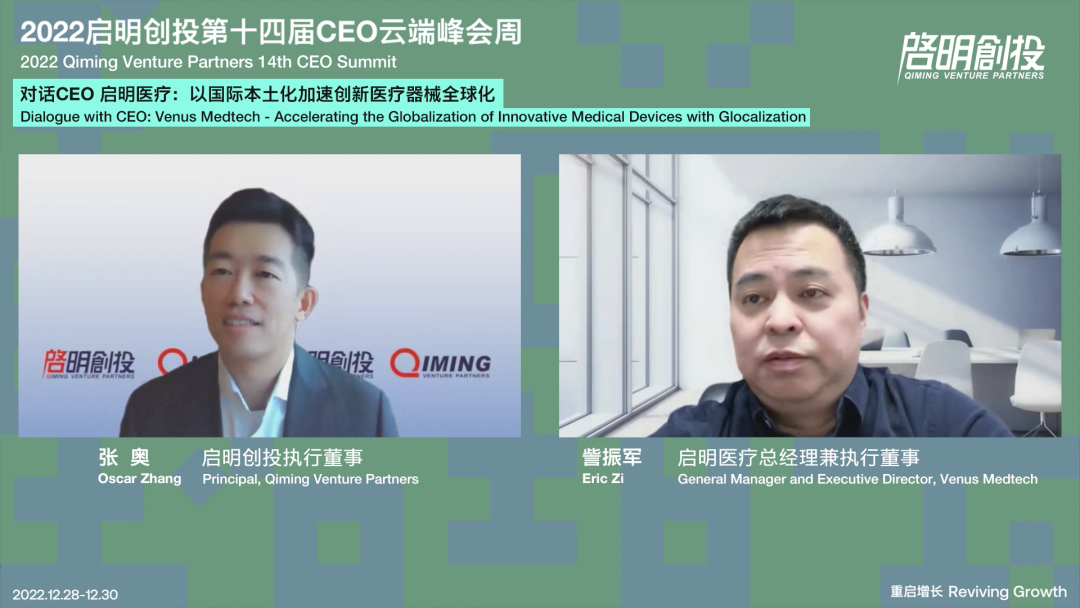 In the next session, Amy Tang, Qiming's Venture Partner, and Xie Liangzhi, Founder and CEO of SinoCellTech (SHSE: 688520) talked about the founding history, the experience of pipeline R&D, as well as the incentive and management measures of talents and the progress of Covid-19 vaccine R&D.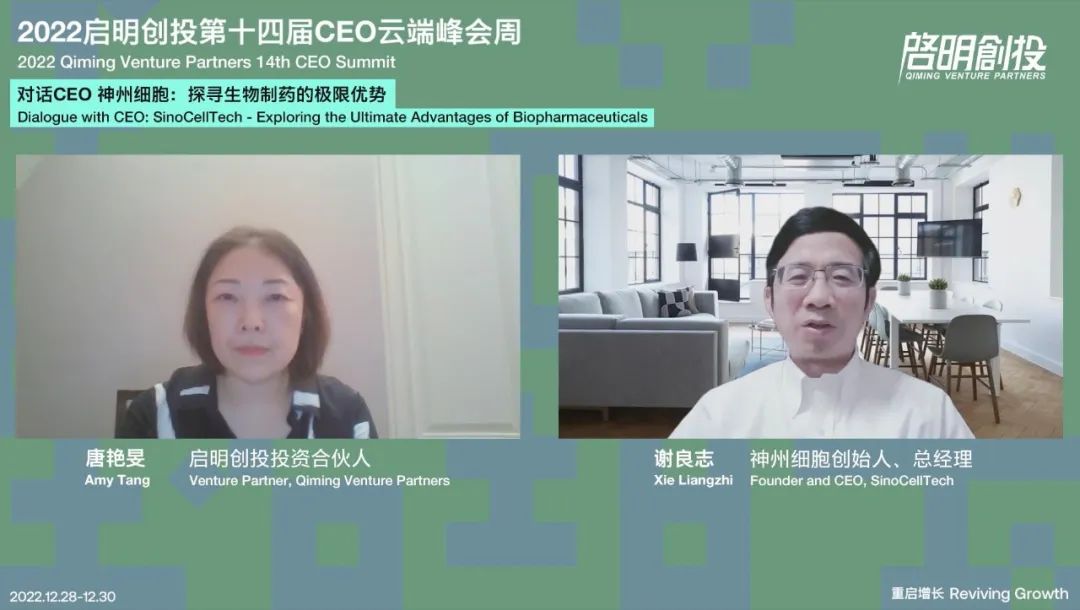 When talking about how to face the uncertainty of the future under a complex market environment, Xie Liangzhi believed that the Chinese biotechnology market has already seen repeated investment, repeated construction and repeated research, and that the market will gradually become rational in the future, and there is no way out for companies without real competitiveness in the future, and it will be more difficult for companies relying on large amounts of capital to continue to do R&D promotion, and they need to transform or conduct strategic transformation as soon as possible.
Relying on China's strong supply chain, Chinese beauty brand Focallure has established a foothold in Southeast Asia and is setting its sights on broader overseas markets. The company's Founder and CEO, Fang Xing discussed with Qiming's Partner Wang Shiyu about the market choice, local operation management experience, and the company's future growth areas. Commenting on the public perception of the beauty industry as "marketing-oriented", Fang Xing said that the pursuit of good products is the soul of a company and Focallure will continue to work on best products.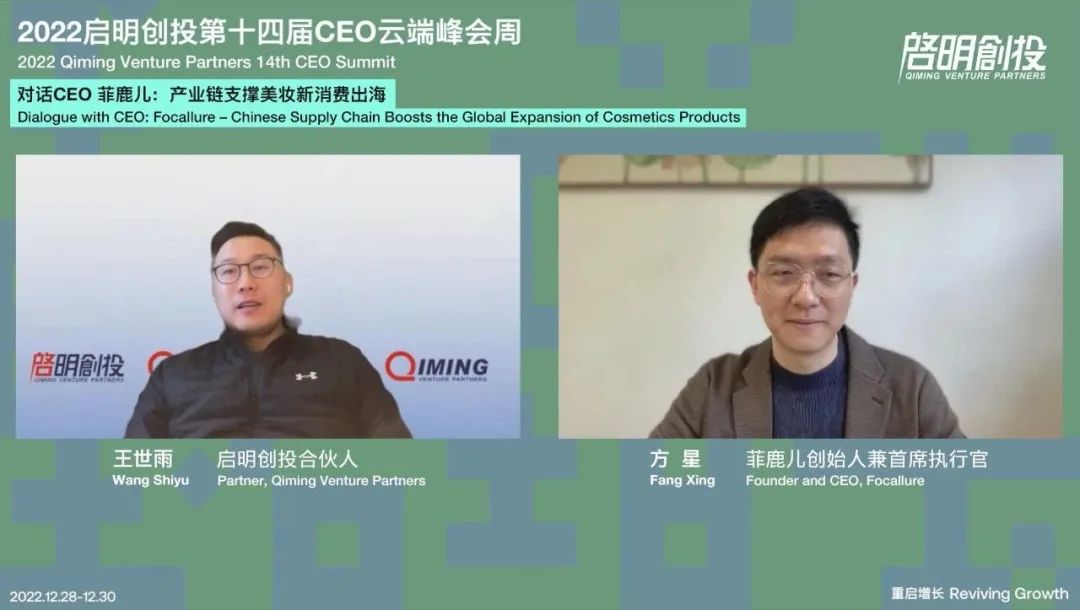 In the last session, Bonnie Wang, Partner of Qiming Venture Partners, discussed the future of virtual reality and technological innovation with Wang Xi, CEO of BOOMING TECH. In the past ten years since its founding, BOOMING TECH has dedicated itself to building China's own game engine and now developed into the largest independent game engine R&D team in China. Wang Xi shared his determination and sense of faith in conquering this underlying technology, saying that the core challenge of working in game engine is not funding and talents, but whether one can break through the barrier of reality and mentality, and overcome external interference and self-doubt to keep pushing forward.