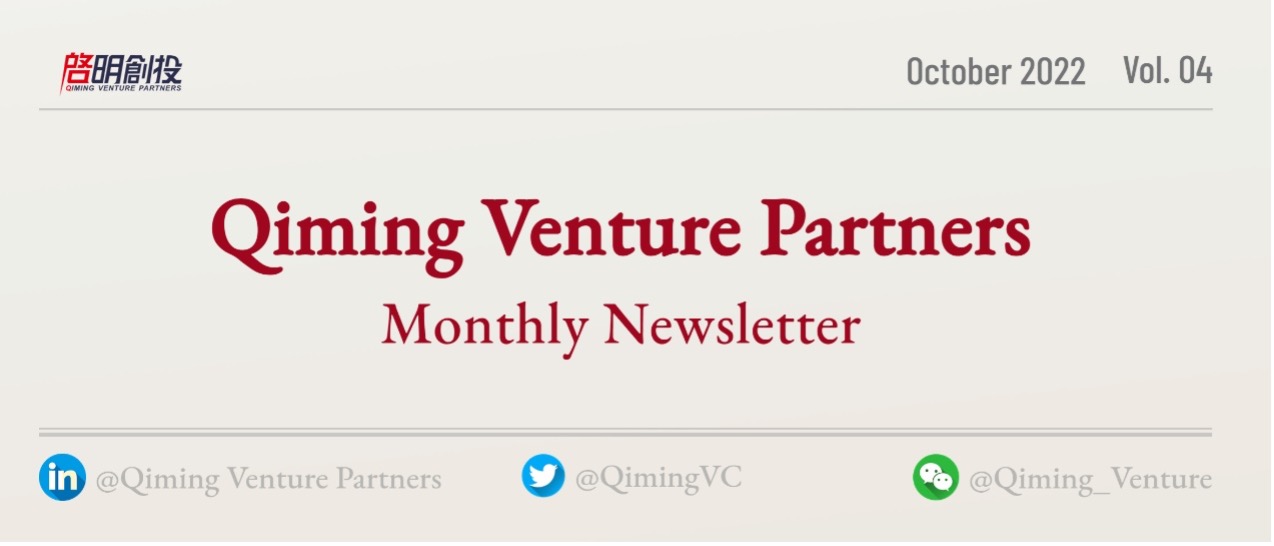 Deals
IPO
• Transwarp (SHSE: 688031), China's leading software developer of enterprise big data infrastructure, successfully listed on the STAR board of Shanghai Stock Exchange on October 18th. Qiming Venture Partners led the company's Series A+ round back in 2015 and continued to invest in Series B. Transwarp's successful IPO is the 7th IPO for Qiming Venture Partners since the beginning of 2022.
Financing
• Insight Lifetech completed its Series D+ equity round recently. The funds will be used to accelerate the marketing and capacity expansion of the company's product lines, and to develop and consolidate the research and development of innovative product lines.
Portfolio Highlights
Milestones
• CanSino Biologics (SEHK:6185, SHSE:688185)'s inhaled version of COVID-19 vaccine Convidecia Air™, a needle-free, painless and non-invasive solution, was officially included in Shanghai's booster vaccination program. Eligible Shanghai residents can make appointments and receive inhaled COVID-19 vaccines since October 26th, 2022.
• Antengene (SEHK: 6996) will release data from preclinical studies of four pipeline assets in one oral presentation and three poster presentations at the 37th Society for Immunotherapy of Cancer Annual Meeting (SITC 2022), set to take place on November 8th-12th, 2022, in Boston, the U.S. state of Massachusetts. The company also announced that the Taiwan Food and Drug Administration has approved a New Drug Application (NDA) for XPOVIO® (selinexor) for three indications.
• Jacobio Pharma (SEHK:1167) announced it has entered into a clinical trial collaboration agreement with Merck on a clinical study of combination therapy between Jacobio Pharma's KRAS G12C inhibitor JAB-21822 and Merck's epidermal growth factor receptor (EGFR) inhibitor Erbitux® (cetuximab).
• Schrödinger (NASDAQ:SDGR) recently announced a collaboration with Eli Lilly. Eli Lilly is the latest pharma company to call on Schrödinger's expertise in computational chemistry and drug development.
• TigerGraph announced its commitment to support openCypher, a popular query language for building graph database applications, which will give developers more choices to build or migrate graph applications to TigerGraph's scalable, secure, and fully managed graph database platform.
• Oricell Therapeutics has received the FDA Orphan Drug Designation (ODD) for its proprietary CAR-T cell therapy targeting GPRC5D (OriCar-017) for the treatment of Relapsed/Refractory Multiple Myeloma (R/R MM).
• WeRide announced that it would join hands with Hyundai Motor Group's HTWO Guangzhou and Hengyun to launch the world's first self-driving hydrogen-powered vehicle pilot zone in Huangpu District and Guangzhou Development Zone in Guangzhou.
• The case report of Belief BioMed's Hemophilia B gene therapy drug candidate BBM-H901 is published in The New England Journal of Medicine. It shows the excellent haemostatic effect for the patient who underwent major surgery after BBM-H901 treatment.
Awards
• TOP 20 China Pharmaceutical Listed Companies with ESG Competitiveness in 2022 by Healthcare Executive - New Horizon Health (SEHK:6606), Tigermed (SZSE:300347, SEHK:3347), CanSino Biologics (SEHK:6185, SHSE:688185)
• World's Best Employers by Forbes - Xiaomi Technology (SEHK:1810)
• TOP 50 Emerging Consumer Brands List by KPMG China - Mijia Glasses Camera by Superhexa
• The Most Innovative IoT Companies by Fortune - Mech-Mind Robotics
Qiming Updates
Insights
• Nisa Leung, Managing Partner of Qiming Venture Partners, shared her views on the Chinese healthcare and biotech firms' consolidation after an investment boom driven by the COVID-19 pandemic, during an interview with Reuters on the sidelines of the Forbes Global CEO event in Singapore.
Nisa also shared China's huge progress in healthcare and drug development within the last 20 years during a panel discussion with a group of seasoned China investors at the Milken Institute Asia Summit in Singapore.
During the media conference of the Hong Kong Symposium, Nisa believed that with renowned participants' sharing, audiences would have a deeper understanding of the Greater Bay Area's overall situation in the innovation and science fields.
• Partner Kuantai Yeh spoke with The Paper about his investment philosophy and long-term experience in technology field. He explained that being honest with oneself and developing independent thoughts are the prerequisite for being honest with LPs and entrepreneurs.
• Kan Chen, Partner of Qiming Venture Partners, discussed the trend of scientists starting businesses in the healthcare sector with VBData, shedding light on Qiming Venture Partners' comprehensive post-investment support system including project management, recruitment, branding, and government relations.
• Oscar Zhang, Principal of Qiming Venture Partners, shared his confidence in Koutech to be a world-class leader in the development of surgical robots with BioWorld regarding Koutech's completion of its series A funding.
• Yi Tang, Principal of Qiming Venture Partners, recently had a conversation with Moonshot Commons, a global builder community for Gen-Z engineers, sharing his views on different roles in the Web3.0 community and his focus during investment.
Awards
• 2022 TOP 30 Most Influential Investors in China by Fortune China and Zero2IPO Research - Duane Kuang, Founding Managing Partner of Qiming Venture Partners
• TOP 10 China VC/PE CFO in 2022 by Frost & Sullivan and LeadLeo Research Institute - Grace Lee, Partner and Group COO of Qiming Venture Partners
• 2021-2022 TOP 30 VC and PE Investment Institutions with Competitiveness in Healthcare Investments by 21st Century Business Herald - Qiming Venture Partners
• 2021-2022 Investment Institution with Special Contribution to ESG by 21st Century Business Herald - Qiming Venture Partners
Sources: Qiming Venture Partners, company press releases, media reports, etc.