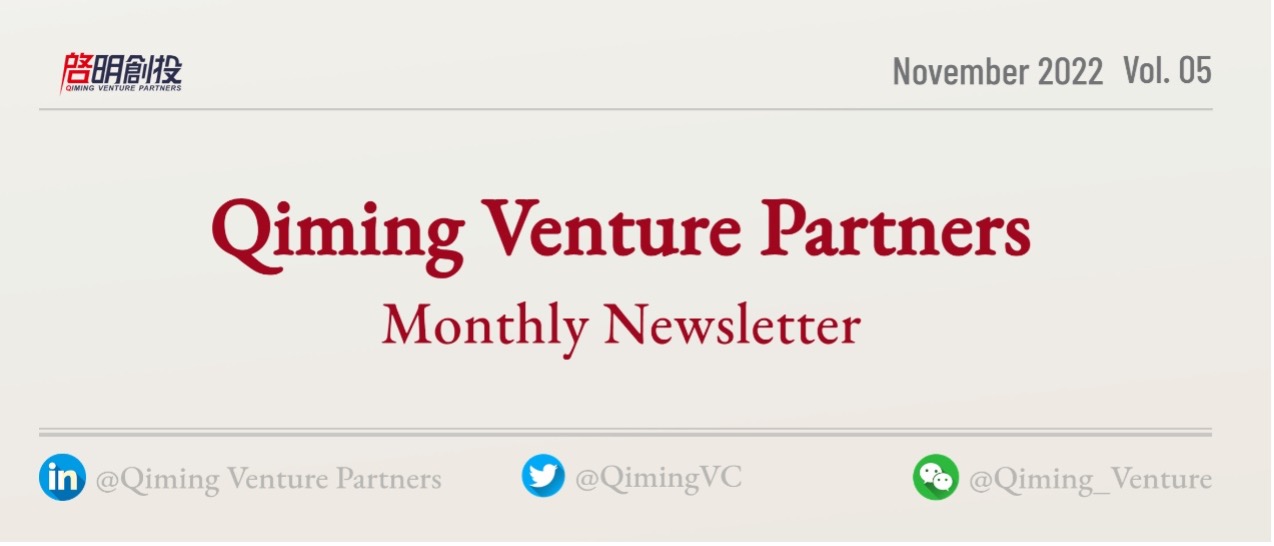 Portfolio Highlights
ESG
• To help combat the COVID-19 pandemic, WeRide deployed its Robovans and Mini Robobuses to Guangzhou International Bio Island, home to hundreds of tech companies.
• Xiaomi Technology (SEHK:1810) has launched a project for people with speech-disorder to communicate with their own voices in daily life under the theme of "Tech for Good".
• Insilico Medicine received a grant of over $700,000 from Bill & Melinda Gates Foundation for designing new non-hormonal contraceptive options for women using its AI platform.
• The project video of DST was presented at the UN Climate Change Conference COP27 China Pavillion. DST served as an example of an innovative urban low-carbon transportation model and climate investment and financing project in Shenzhen, Guangdong province.
Financing
• XellSmart announced the completion of its Series A1 round of financing worth over RMB 200 million co-led by Qiming Venture Partners. The proceeds will be used for the acceleration of preclinical research, team expansion, and the pilot production of its clinical-grade iPS-derived cell drug products.
• Preclinical CRO company ZSHK announced its completion of nearly RMB 100 million in Series B financing to enhance pharmaceutical innovation/medical device preclinical evaluation and support Hong Kong and international business.
• Plum secured $100 million in its Series C round. The proceeds will be used for service standardization, user experience improvement, product R&D, and database building.
Progress
• TigerGraph announced the latest version of TigerGraph Cloud, the industry's first and only native parallel graph database-as-a-service, highlighted by two powerful new tools for visual graph analytics and machine learning.
• Insilico Medicine launched Pharma.AI globally, including PandaOmics, Chemistry42, and inClinico.
• CanSino Biologics (SEHK:6185, SHSE:688185)'s inhaled COVID-19 vaccine Convidecia Air™ was approved for emergency use in Morocco, marking its first overseas approval. The vaccine has also been introduced in multiple regions in China, including Beijing, Shanghai, Tianjin, Jiangsu and Zhejiang provinces, etc.
• Asieris Pharmaceuticals (SHSE: 688176), announced that the FDA has approved the Investigational New Drug application for its oral drug APL-1401.
• Amoy Diagnostics (SZSE:300685), Riken Genesis and Precision Medicine Asia announced that Japanese Ministry of Health, Labour and Welfare has approved the AmoyDx® Pan Lung Cancer PCR Panel as a companion diagnostic for Amgen's LUMAKRAS® (sotorasib).
• CANbridge Pharmaceuticals (SEHK: 1228)'s CAN106 has been granted Orphan Drug Designation by the FDA for the treatment of myasthenia gravis.
• Antengene (SEHK:6996)'s oral presentation for ATG-031 presented at the 37th Society for Immunotherapy of Cancer Annual Meeting (SITC 2022) was selected among SITC TOP 100 abstracts.
• Abbisko Therapeutics (SEHK:2256) announced that the preliminary Phase Ib results of its CSF-1R inhibitor ABSK021 were published at the 2022 Connective Tissue Oncology Society; three of its drug candidates had WHO International Nonproprietary Names approved.
• Venus-Vitae®, Venus Medtech (SEHK: 2500)'s self-developed next-generation balloon-expandable dry-tissue transcatheter aortic valve, recently completed three TPVR clinical uses with positive results.
• MediLink Therapeutics announced that YL202 was granted an implied clinical trial approval by the Center for Drug Evaluation of China's NMPA.
• CerviClear™, the world's first HPV cervical cancer screening product developed by New Horizon Health (SEHK:6606), has officially entered the clinical registration stage, with the first participant enrolled in a large-scale prospective multi-center clinical trial.
Partnerships
• WeRide collaborates with Nissan Mobility and offers advanced technology support to drive local intelligent transportation services in Suzhou, Jiangsu province.
• Insilico Medicine announced a multi-year, multi-target strategic research collaboration with Sanofi worth up to $1.2B - the largest partnership deal in the company's history.
• CanSino Biologics formed collaborations with AstraZeneca to deepen research on rare diseases in China and Indonesia's Etana Biotechnologies to accelerate the development and commercialization of innovative vaccine products in the region.
• Zai Lab (NASDAQ:ZLAB, SEHK:9688) and Yuanxin Technology will partner in the upstream and downstream of patient service innovation business including drug R&D, commercial insurance cooperation and drug accessibility.
• BUD announced collaborations with GRND and WhaleFin, NetEase Games, Globe Group, as well as headphone brand 1MORE Inc., to engage more users in the metaverse.
Global Activity
• CanSino Biologics participated in Hainan International Health Industry Expo and Vaccine World Asia Congress 2022, showcasing innovative vaccine products.
• UBTECH Robotics and Pluslife Biotech presented intelligent robot products and the most recent point-of-care diagnostic innovations respectively in MEDICA 2022 in Düsseldorf, Germany, one of the largest international exhibitions for the healthcare industry.
• Tigermed (SZSE:300347, SEHK:3347) participated in the 27th Annual Swiss Symposium in Pharmaceutical Medicine focusing on "Artificial Intelligence and Cutting-edge Therapies".
• Venus Medtech presented its innovative technology and unique approach for Tricuspid and Pulmonary heart valve replacement at PCR London Valves 2022 Symposium "The Right Valves for the Right Ventricle".
• APT Medical (SHSE:688617) attended the Indonesian Society of Interventional Cardiology Annual Meeting (ISICAM) with a focus on cardiovascular intervention and therapy.
Corporate Development
• Zai Lab announced the appointment of Dr. Peter Huang as its Chief Scientific Officer. Dr. Huang was an honoree of the 2021 Heroes of Chemistry from the American Chemistry Society for the discovery and development of lorlatinib.
• Sino Biological (SZSE: 301047) announced the initiation of construction of the Center for Bioprocessing (C4B) in Houston, Texas, US.
Awards
• 2022 China Most Powerful Women in Business Future List by Fortune - Li Lin, Founder & CEO of Health Biotech; Liu Fang, Co-Founder & CTO of CIX Technology; Zhang Hui, Founder & CEO of IntoCare Medical
• 2022 30 Under 30 List by Forbes China - Yiming Dong, Co-Founder, Partner & CSO of Atantares, Linfeng Zhang, Co-Founder & CSO of DPTechnology, and Risa Feng, Co-Founder & CEO of BUD
• Innovators Under 35 in Asia Pacific by MIT Technology Review - Xin Zhao, CEO & Co-Founder of Atantares
• Company of the Year honor of the BayHelix Awards 2022 - Insilico Medicine
• Best Inventions of 2022 Award by TIME - Roborock's S7 MaxV Ultra
• 2022 Good Design Award by Japan Institute of Design Promotion - Insta360, Xiaomi Technology (SEHK:1810), and Superhexa among others
• Future 2022 New Consumption Power List by 36Kr - Roborock (SHSE:688169), Spes, Tasogare
Qiming Updates
ESG
• The China Rural Revitalization Entrepreneur Support Program was selected as exemplary cases of "Supporting Rural Revitalization from Financial Industry" launched by China Economic Information Service and the Research Center for Rural Economy at China's Ministry of Agriculture, which was announced at the Annual Conference of Financial Street Forum 2022.
Insights
• Managing Partner Nisa Leung spoke with Bloomberg on the sidelines of Bloomberg New Economy Forum about the investment opportunities and China's potential for providing affordable healthcare. As one of business delegates at the APEC Economic Leaders' Meeting in Thailand, Nisa shared Hong Kong's importance as a financial center and international window of the Chinese mainland with Thai business leaders.
• Founding Managing Partner Gary Rieschel, discussed emerging sectors for investing in China on the sidelines of Bloomberg New Economy Forum, highlighting that the energy in China's startup community is still very strong.
• Partner and Group COO Grace Lee talked about the importance of an LP-friendly legal structure and the concept and practice of Qualified Foreign Limited Partnership at the 35th AVCJ Private Equity & Venture Forum.
Awards
• Fundraising of the Year – VC of 22nd AVCJ Private Equity & Venture Capital Awards - Qiming Venture Partners' USD Fund VIII
• Q3 2022 Global League Tables by PitchBook - 2nd most active VC in Greater China region and 14th globally, TOP 1 most active VC in HC devices & supplies, TOP 3 most active VC in pharma & biotech, TOP 25 most active VC in consumer goods & services, TOP 5 most active VC at early stage, and TOP 16 most active VC at late stage - Qiming Venture Partners
• 2022 VCJ 50 ranking by Venture Capital Journal – TOP 1 China-based VC firm, TOP 13 globally – Qiming Venture Partners
• 2022 China Most Powerful Women in Business List by Fortune - Nisa Leung
• 2022 Top Investors with Industry Warmth in the Guangdong-Hong Kong-Macao Greater Bay Area by Southern Metropolis Daily - Duane Kuang
• Pioneering Investors List by Chinastarmarket – The 80's Pioneering Partner - Kan Chen, The Up-and-coming Investor - Yi Tang
• TOP 10 Investment Firms for Globalization by EqualOcean – Qiming Venture Partners
• Content Ingenuity Award of PR Newswire Corporate Communications Award – Qiming Venture Partners
Sources: Qiming Venture Partners, company press releases, media reports, etc.