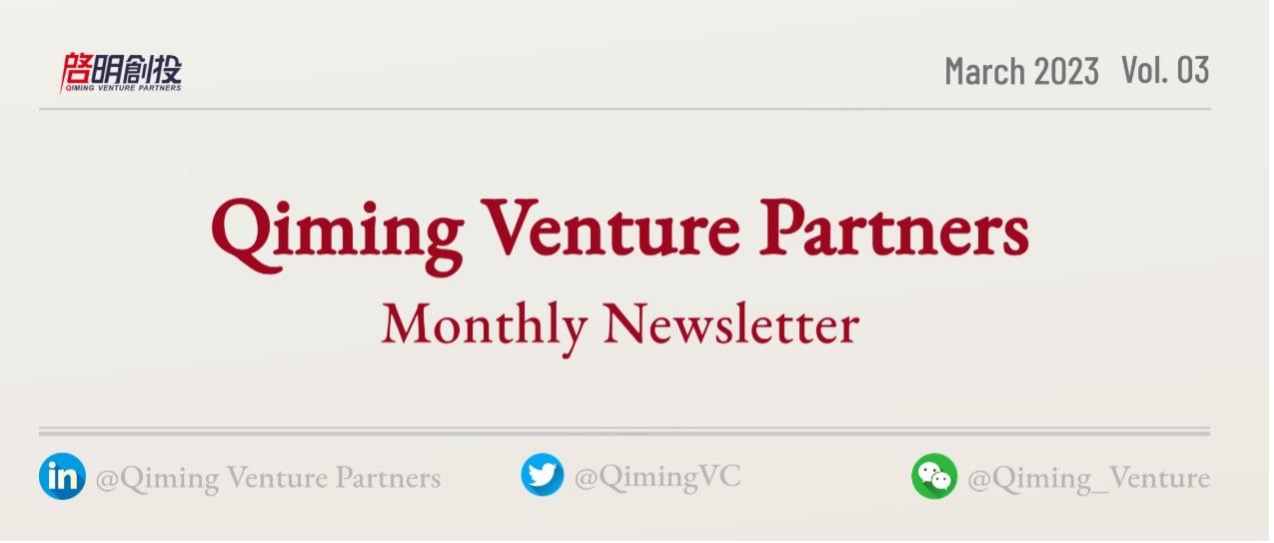 Qiming Updates
Insights
• Our Managing Partner Nisa Leung discussed how Qiming Venture Partners views changes and investment opportunities in healthcare and the global influence of China's innovations during a dialogue with McKinsey & Company.
News
• Our Founding Managing Partner Gary Rieschels and his family donated $10 million to bolster the U.S. Olympic and Paralympic Committee's mental health program. This follows their $1.5 million donation for the same purpose in 2020. (Read More)
Awards
• PEI Awards 2022 - TOP2 Firm of the Year in China; TOP3 Fundraise of the Year in Asia (Read More)
• S50 Female Investors List by PEdaily - Nisa Leung
• 2023 Yicai Industrial Investment list - TOP10 Investment Institutions in Biopharma Industry and TOP10 Investment Institutions in IT industry
• 2023 Outstanding Female Investors List by China-fof - TOP30 Best Female Investors of Direct Investment Funds - Nisa Leung; TOP20 Best Female IRs - Janet Yu
• 2022 China's Investment Institutions Series List by the First New Voice
Comprehensive List - TOP2 Best VC Institutions, TOP3 Most Active VC Institutions, TOP8 VC institutions with IPOs;
Technology Post-investment List - TOP9 Best Investment Institutions for Technology Unicorns, TOP9 Best Investment Institutions for Future Technology Unicorns;
Industry List - TOP7 Investment Institutions in Advanced Manufacturing, TOP9 Investment Institutions in Corporate Services, TOP10 Investment Institutions in Consumer, TOP1 Investment Institutions in Healthcare, etc.
Portfolio Highlights
IPO
• Apollomics (NASDAQ:APLM) listed on Nasdaq through a SPAC merger. Qiming Venture Partners is one of the earliest investors of Apollomics, accompanying the company growth since its seed round. (Read More)
Financing
• Frontis, a global leading technology service company focusing on digital intelligence of enterprise innovation, announced the completion of angel round worth hundreds of millions of RMB led by Qiming Venture Partners.
• DeepWay raised 770 million RMB in its Series A+ financing. Qiming Venture Partners led its Series A round and followed on in this round. (Read More)
• China's leading RPA technology company Kingsware raised nearly 500 million RMB in its Series C round of financing. The funding amount is among the top in Chinese enterprise services sector. Qiming led its Series A round and continued to invest in Series B round.
• Ethereum Layer 2 network Scroll secured $50 million financing with Qiming's participation. The fresh capital will be used to build products, launch its mainnet, expand its ecosystem and increase team size. (Read More)
• Tasogare secured hundreds of millions of RMB in its Series C funding round. Qiming co-led its Series B round and followed on in this round. Tasogare will use the funds for product upgrades, offline expansion, brand marketing, and team building.
• Dezhen Tech announced the completion of its Series A financing, which was exclusively invested by Qiming. The funds will be used for the R&D of intelligent medical products and large hospitals' digital transformation of the next-generation cloud-native IT architecture.
• Qiming co-led Allorion Therapeutics' Series B financing round worth $50 million after leading its $40-million Series A financing, committing two consecutive rounds of investments in the company. (Read More)
• TandemAI, a small molecule- and preclinical-focused technology company, raised $35 million in a Series A financing led by Qiming. TandemAI plans to increase its wet lab service capacity to over 500 chemists and biologists and continue developing the drug discovery technology. (Read More)
Progress
• Xiaomi Technology (SEHK:1810) unveiled its game-changer solid-state battery technology, which promises to deliver higher energy density, better low-temperature discharge performance, and enhanced safety.
• Hesai Technology (NASDAQ:HSAI) released the all-new Pandar View 2.0 with new features including automatic retrieval of the vertical angle correction file, advanced record & playback, reflectivity measurement and viewing, as well as full integration into Hesai Technology's current and future product line.
• WeRide showcased its Mini Robobus and Robotaxi and was granted demonstration operation license at the Wuxi Intelligent Internet-connected Vehicles Commercial Launch Ceremony in Jiangsu Province. WeRide also supported Nissan Motor Corporation's pilot Robotaxi services in Suzhou, Jiangsu Province with its leading technologies.
• Zhipu.ai announced the open-source of the Chinese-English bilingual dialogue model ChatGLM-6B which supports reasoning on a consumer-grade single graphics card, and launched ChatGLM, a testing version of chatbot based on their own 130 billion parameters AI model.
• Mech-Mind Robotics has released its latest generation of Mech-Eye DEEP industrial 3D camera for depalletizing and palletizing applications in logistics. Mech-Mind Robotics was also awarded the outstanding Mean Time Between Failures (MTBF) certificate of over 40,000 hours for its Mech-Eye industrial 3D cameras.
• TigerGraph announced the latest version (3.9) of TigerGraph Cloud, the industry's first and only native parallel graph database-as-a-service, including powerful new security, advanced AI, and machine learning capabilities. (Read More)
• Insta360 launched the Insta360 Flow - the most advanced AI-tracking smartphone stabilizer on the market, featuring auto-tracking, 3-axis stabilization, and a built-in selfie stick. The company's Titan camera, a perfect 360 live streaming camera, supported the first training platform for interventional cardiology powered by VR and 5G technologies in China. (Read More)
• DeepWay has become the first company to obtain a commercial vehicle license for road testing of intelligent connected vehicles in Tianjin, after successfully passing a series of automatic driving function tests.
• World's first quadrivalent COVID-19 vaccine SCTV01E developed by SinocellTech (SHSE: 688520) was approved for emergency use in China. This is also SinocellTech's 2nd COVID-19 vaccine product approved for emergency use in China after its bivalent recombinant protein COVID-19 vaccine SCTV01C. (Read More)
• Venus Medtech (SEHK:2500) announced that one patient was successfully enrolled for the clinical trial of Liwen RF™ ablation system. This marks a significant milestone of Liwen RF™ ablation system for the treatment of hypertrophic cardiomyopathy (HCM) and another stride towards commercialization.
• Insilico Medicine brings AI-powered "ChatPandaGPT" to its target discovery platform, making Insilico Medicine the first biotech company to implement chat functionality using large language models into its AI drug discovery platform. (Read More)
• Zai Lab (NASDAQ:ZLAB, SEHK:9688) announced that the company's partner Karuna Therapeutics reported positive topline results from its Phase 3 EMERGENT-3 trial evaluating the efficacy, safety, and tolerability of its lead investigational therapy, KarXT (xanomeline-trospium) in adults with schizophrenia. (Read More)
• APT Medical (SHSE:688617) has completed the last enrolled patient's surgical treatment with its contact force sensing ablation catheter and system. This product is the first product with finished persistent atrial fibrillation subjects enrollment in China for premarket clinical trial.
• Broncus Medical (SEHK:2216) announced the successful launch of the Archimedes® navigation system for the diagnosis of a peripheral pulmonary nodule in Germany.
• Amoy Diagnostics (SZSE:300685) provided companion diagnostic support to the approval of two novel lung cancer targeted drugs in China - Takeda's EXKIVITY® (mobocertinib) and Haihe Biopharma's Gumarontinib.
• Abbisko Therapeutics (SEHK:2256) announced that the US FDA had approved its CSF-1R inhibitor pimicotinib (ABSK021) for a randomized, double-blind, placebo-controlled, multicenter Phase III clinical study in patients with giant cell tumor of the tendon sheath.
• Antengene (SEHK:6996) announced that the China's NMPA has approved the Phase I study of ATG-022 for the treatment of advanced or metastatic solid tumors (the CLINCH Trial). (Read More)
• The first enrollment of the FIM clinical study for Singular Medical's Implantable Cardioverter Defibrillator (ICD) was completed, which marked the official launch of a clinical study evaluating the effectiveness and safety of ICD.
• TandemAI launched TandemViz™ 1.0, the proprietary web-based platform providing its growing roster of drug discovery clients with a user-friendly and collaborative graphical interface to TandemAI's suite of computational tools.
• Hope Medicine announced that HMI-115, its first-in-class novel drug with global rights, was granted another clinical trial approval from Center for Drug Evaluation (CDE) of China's NMPA, following CDE's approval for the treatment of endometriosis in November 2022.
• Shukun Technology's StrokeDoc, a head and neck vascular artificial intelligence assisted diagnosis system, was officially approved for China's NMPA Class III medical device registration certificate. Shukun Technology is also the only high-tech medical AI company with NMPA Class III certificate, FDA approval, and EU MDR CE certificate in the cerebrovascular AI field.
Partnerships
• WeRide will start testing autonomous driving solutions in Singapore after joining hands with SMRT Corporation, the largest public transport operator in Singapore. (Read More)
• Nitro Rallycross, a disruptive next-generation motorsport, partnered with Insta360, the industry-leading dual 360° action camera brand to provide viewers with a more visceral experience. The company also joined hands with MeetMo.io to deliver the first 8K 360 stream of Super Bowl Opening Night to FOX Sports' virtual set with its Titan VR camera. (Read More)
• TigerGraph and Dell Technologies offer a solution of deep-link analytics that allows customers to ask questions of their data. The solution is easy to deploy, highly scalable and provides significant performance and cost benefits to customers. (Read More)
• SinocellTech (SHSE:688520) announced that it has become a partner of Baidu's ERNIE Bot ecosystem. SinocellTech is the first biopharmaceutical company in China to integrate ERNIE Bot's technology capabilities.
• Insilico Medicine reached collaboration with Novo Nordisk for the discovery of new therapeutic targets to treat liver fibrosis with the help of Insilico Medicine's therapeutic target and biomarker discovery platform PandaOmics. The company also adopted BioNeMo™ Cloud service, as part of NVIDIA AI Foundations, with pre-trained AI models to help researchers build AI pipelines for drug development. (Read More)
• New Horizon Health (SEHK:6606) has reached exclusive strategic cooperation with EC Healthcare to jointly promote the registration, distribution, and marketing of CerviClear™ in Hong Kong SAR, popularizing the cervical cancer prevention services with home-based testing.
• Xcelom Limited, a subsidiary of our portfolio company Berry Genomics (SZSE:000710), inked a cooperation agreement with Ajlan & Bros Medical Company to set up a joint venture company with a focus on genetic testing in reproductive health. This marks a substantial step in Berry Genomics' overseas expansion strategies.
• Yuanxin Technology has signed a strategic cooperation agreement with Roche Pharmaceutical China. Both companies will work together on innovative businesses in the upstream and downstream of patient services.
• Two of our portfolio companies Atantares and DPTechnology have reached a strategic cooperation, which will fully integrate both strengths in new drug R&D/protein transformation and high-throughput platform.
• Jacobio (SEHK:1167) announced clinical collaboration with Merck to evaluate CD73 monoclonal antibody JAB-BX102 in combination with KEYTRUDA® (pembrolizumab) for patients with advanced solid tumors. (Read More)
• Abbisko Therapeutics (SEHK:2256) has entered into an exclusive Out-License agreement with Allist for the further development, manufacture, use, and sales of (EGFR-TKI) ABK3376 in China (Chinese Mainland, Hong Kong, Macau, and Taiwan). (Read More)
• Ark Biopharmaceutical has renewed its co-development collaboration with Calibr, a division of Scripps Research. The collaboration centers on AK0705, a potential first-in-class drug targeting an enzyme that plays an important role in respiratory inflammation.
• Amoy Diagnostics (SZSE:300685) and its partners Riken Genesis and Precision Medicine Asia obtained approval of AmoyDx® Pan Lung Cancer PCR Panel as a companion diagnostic for RET fusion-positive non-small cell lung cancer (NSCLC). (Read More)
• LaNova Medicines has entered a collaboration with Akeso to jointly promote the combination therapy development of AK112, first-in-class PD-1/VEGF bispecific antibody, and LM-302, a novel antibody drug conjugate (ADC) targeting Claudin18.2 with best-in-class potential, for several clinical studies in relevant solid tumors.
• XellSmart has officially been a part of Roche Accelerator. With Roche Accelerator's support, XellSmart will accelerate the R&D of its innovative iPS-derived cell drugs for the treatment of major neurological diseases.
• Zencore Biologics signed a strategic cooperation agreement with BasalMedia at the 2023 EBC Bio-Industry Conference. Both companies will work as entrusted production partners to jointly improve the quality system and provide customers with better quality culture medium products.
• MedMotion signed a strategic cooperation agreement with Smith+Nephew, representing Smith+Nephew's first strategic cooperation with a Chinese digital therapy company.
• Berry Oncology signed a strategic cooperation agreement with MGI to establish an "Early Screening for China" work plan.
Global Activity
• WeRide showcased its Robotaxi and Mini Robobus at the 2023 China Industrial Products Exhibition in the China-UAE Industrial Capacity Cooperation Demonstration Zone in United Arab Emirates.
• At Game Developers Conference in the US, Booming Tech's CEO Wang Xi shared a case study of Conqueror's Blade, a grand-scale ancient warfare MMO built on Booming Tech's Chaos Engine.
• CanSino Biologics (SEHK:6185, SHSE:688185) announced that the company was granted Emergency Use Approval for its Recombinant COVID-19 Vaccine (Adenovirus Type 5 Vector) for Inhalation Convidecia Air® as a heterologous booster in Indonesia. (Read More)
• Venus Medtech (SEHK:2500) participated in the PICS/IPC Istanbul 2023, sharing a stunning live-case, a VenusP-Valve 28x25 implanted into a bio-prosthetic valve, broadcasted from Sidra Medicine in Doha, Qatar. This is the second time a VenusP-Valve was deployed in a Valve in Valve position.
• Moldova and Uzbekistan ordered Infervision's AI solutions via Global Drug Facility (GDF) by UNOPS.
• Connect Biopharma (NASDAQ:CNTB) announced that the CBP-201 atopic dermatitis (AD) team presented two abstracts at the American Academy of Dermatology Annual Meeting.
Insights
• LanzaTech (NASDAQ:LNZA) CEO Dr. Jennifer Holmgren spoke to Bloomberg at the India energy forum about the "Trash to Treasure" approach, sharing the tremendous growth the company saw through making ethanol from non-food, non-carbohydrate resources. (Read More)
• YeQing Zhu, Co-Founder, Chairman and CEO of New Horizon Health (SEHK:6606), shared the company's philosophies for product developments and market approval, commercialization strategies, etc. He also elaborated global expansion and competition in cancer screening market.
• Linfeng Zhang, Co-Founder and CSO of DPTechnology, recently discussed AI's essential role in promoting fundamental scientific research and industrial innovation based on his experience in basic research.
Awards
• TOP20 Rising Female Business Leaders by Forbes China - Li Tingting, Co-Founder & CTO of Qingflow, Li Lin, Founder & CEO of Health Biotech, Liu Fang, Co-Founder & CTO of CIX Technology, Xu Wei, Founder & CEO of Plum, and Eva Zhang, Founder & CEO of IntoCare Medical
• The 9th 100 Power Businesswomen list by Forbes China - Xiaochun Cao, Co-Founder, Executive Director and General Manager of Tigermed; Li Ni, Vice Chairman and COO of Bilibili; Samantha Du, Founder, Chairperson and CEO of Zai Lab; Helen Huihua Mao, Co-Founder of CanSino Biologics
• 2023 TOP50 Most Influential Business Leaders in China by Fortune China - Xiaomi Technology's Founder, Chairman & CEO Lei Jun and Meituan's Co-Founder, Chairman & CEO Wang Xing
• World's Most Innovative Companies for 2023 by Fast Company - LanzaTech
• 50 Hottest Companies in the Bioeconomy 2023 by Biofuels Digest - LanzaTech
• The Economic Times Choice of Tech Leaders 2023 award - TigerGraph (Read More)
• Second Life Science Entrepreneurship Competition by MIT Technology Review China - XellSmart, DPTechnology and GenLight MedTech
• Innovator under 35 China Award by MIT Technology Review - Yongcheng Wang, CTO of M20 Genomics
Sources: Qiming Venture Partners, company press releases, media reports, etc.