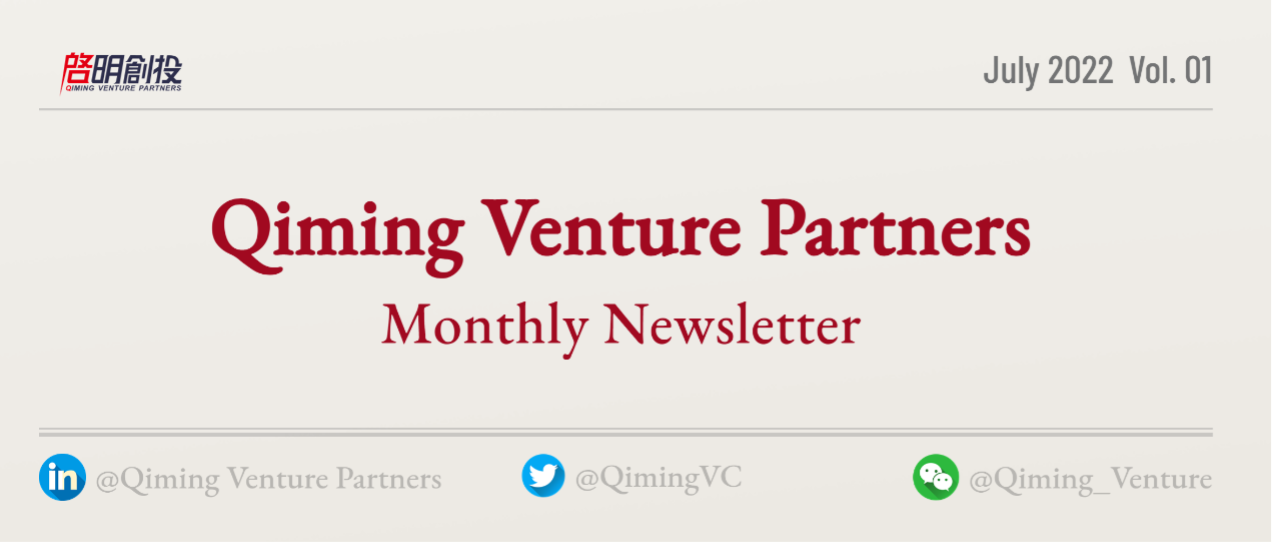 Deals
IPO
• The innovative drug development company InventisBio (SHSE: 688382) was listed on the Science and Technology Innovation Board of the Shanghai Stock Exchange on July 25. This marks the fourth IPO in Qiming's portfolio in 2022. InventisBio has become the ninth portfolio company listed on the STAR Market.
Financing
• Chatail, a SaaS provider of livestream solutions and services for high-end retail brands, secured tens of millions of dollars in its Series B financing round, led by Qiming Venture Partners.
• Biotree, a leading Specialized, Refined, Differential and Innovative (SRDI) company in metabolomics completed Series A funding round led by Qiming Venture Partners.
Portfolio Highlights
Milestones
• Xiaomi Technology (SEHK:1810) officially unveiled the new Xiaomi 12S Series "co-engineered with Leica". This outstanding imaging product series is the first culmination of the Strategic Partnership in Imaging Technology between Xiaomi and Leica.
• TigerGraph announced new features to TigerGraph Cloud, its fully managed graph database as a service, which enhance seamless adoption, deployment, and management of multiple graph database solutions.
• Broncus Medical (SEHK:2216) completed surgeries on the first group of patients using its InterVapor® (including InterVapor Generator and InterVapor Catheter, the "InterVapor®") after it was approved for marketing in China.
• VenusP-Valve®, an innovative transcatheter pulmonic valve replacement (TPVR) system developed by Venus Medtech (SEHK:2500), was approved by the National Medical Products Administration (NMPA) for the treatment of severe pulmonary regurgitation (≥3+) in patients after congenital heart defects (CHD) procedure with native right ventricular outflow tract (RVOT).
• Insilico Medicine identified multiple unreported potential therapeutic targets for amyotrophic lateral sclerosis (ALS), using its proprietary AI-driven target discovery engine, PandaOmics™.
• InferRead CT Stroke, a computer-aided triage and notification system for intracranial hemorrhage designed by Infervision, recently obtained the NMPA Class III medical device registration certificate, following the clearance granted by FDA last year.
Awards
• Hesai Technology, Desano, and Belief BioMed were included in the list of 2022 TOP 100 Hardcore Technology Companies in Shanghai released by Shanghai Industrial Technology Innovation Promotion Association, Shanghai Association for Science and Technology and other institutions.
• DP Technology, a pioneer of scientific research paradigm in AI for Science, and Insilico Medicine, a leading company in AI+ drug discovery, were named Active Biocomputing Companies in China during the digital economy era by CB Insights China.
• Abogen Biosciences, Hesai Technology, WeRide, Shukun Technology, Anxin, B.H. Med, DP Technology, Health Biotech, and Xiaoe Tech were selected in the 2022 Most Socially Impactful Start-up Companies in China by Fortune China.
• CanSino Biologics (SEHK:6185, SHSE:688185), APT Medical (SHSE:688617), and Sanyou Medical (SHSE:688085) were included in 2022 TOP 100 Companies Listed on the Shanghai Stock Exchange's STAR Market released by SMDC.
• Dr. Shuang Wang, the Founder, Chairman and CTO of Nuowei Tech was selected in the list of 2022 Privacy Computing Innovators released by MIT Technology Review China.
• NEIWAI, Spes, PETKIT, Qingflow, Sunyur Network, and WorkTrans were awarded the 2022 Digital Consumption Awards by the First New Voice and TianYanCha.
• The TOP 50 Specialized, Refined, Differential and Innovative (SRDI) Enterprises List of 2022 Dark Horse Summer Contest was unveiled. Mech-Mind Robotics won the championship. SequoiaDB won the third-place prize. CIX Technology was included in the TOP 50.
• 13 of Qiming Venture Partners' portfolio companies were given the 2022 Future Stars Awards released by China Entrepreneur. Biren Technology, XSKY Data Technology and Belief Biomed were recognized as the TOP 21 High Growth Innovative Companies. Berry Oncology, Transwarp, Infervision, Cornerstone Robotics, Sunyur Network, Health Biotech, Kingsware, Vistel, WorkTrans, and DK Medtech were included in the TOP 100 Emerging Companies List.
• Securities Times unveiled the 2022 China Emerging Companies List to identify the most promising start-ups. WeRide and Tungee were honored as the High Growth Enterprises of the Year.
Qiming Updates
• Qiming Venture Partners announced the closing of its latest funds totaling US$3.2 billion, including USD Fund VIII at US$2.5 billion and the first closing of RMB Fund VII at RMB 4.7 billion (or US$ 700 million) on July 11. As in prior funds, Fund VIII was oversubscribed and reached its hard cap for limited partner commitments. This increases the firm's capital raised to $9.4 billion across 18 funds.
• Nisa Leung, Managing Partner of Qiming Venture Partners, joined a panel discussion on how to promote health technology during the 2022 China Conference: Hong Kong - An Essential Revival, organized by SCMP.
• Qiming Venture Partners and its portfolio company imToken jointly held a Web 3.0 Social Meetup with the theme of "Inspiring Tomorrow" in Singapore. The participants shared their insights regarding the current development status and prospects of Web 3.0, discussing the cooperation opportunities in the future.
• Securities Times unveiled 2022 China VC Golden Eagle Awards to identify the most promising VC firms. Qiming Venture Partners was named the Best VC Institution, the Best Exit Institution, and the Best AI Investment Institution of the Year. William Hu, Managing Partner of Qiming Venture Partners, was recognized as the Best Investor of the Year.
Sources: Qiming Venture Partners, company press releases, media reports, etc.