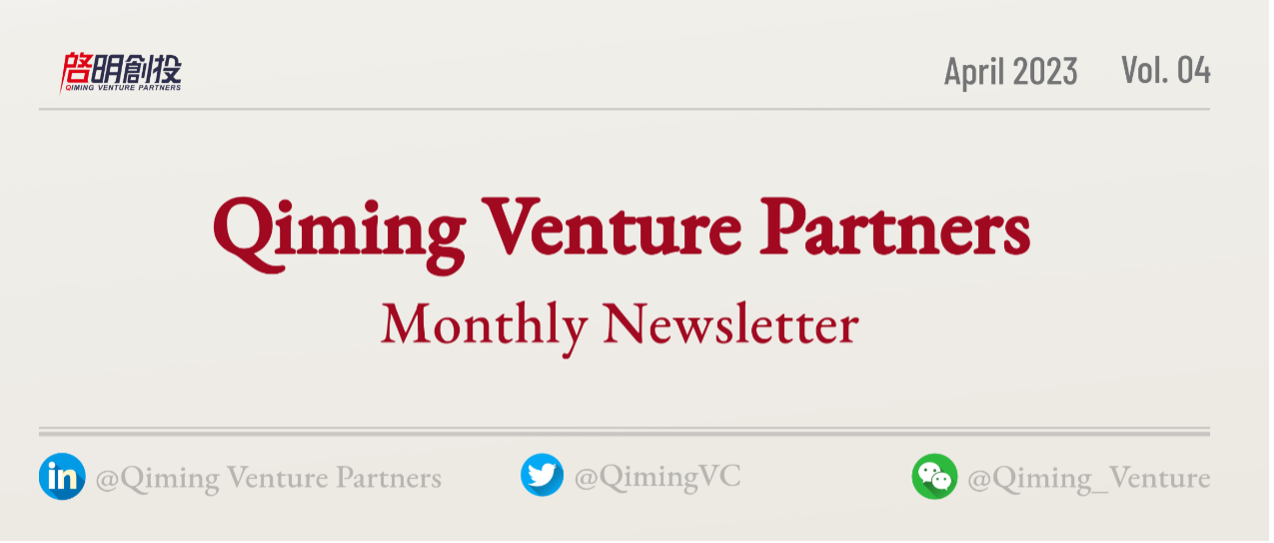 Qiming Updates
Insights
• Following on MedSci (SEHK: 2415)'s IPO, our Managing Partner William Hu discussed our strategies for building a competitive investment team and helping members to grow and formulate their own investing strategies. He also pointed out that Qiming Venture Partners keeps focusing on the "Big Healthcare" sector in China, which stands for the entire industry encompassing novel drug R&D, medical devices, diagnosis, service, digital healthcare, etc. "We will not narrow down to a specific sub-sector but are positive about the entire healthcare industry by investing across the full industrial chain," said William.
News
• Qiming Venture Partners launch the "Zhiqinhui" (Intelligence and Diligence Community) initiative to strengthen our post-investment service and deepen our connections among Qiming and our portfolio companies in the Technology and Consumer (T&C) sectors.
Awards
• TOP 5 Most Active Lead or Co-lead Venture Investors in Q1 2023 globally by Crunchbase - Qiming Venture Partners (Read More)
• Hurun Global Unicorn Index 2023 - TOP 9 Most Successful Investors into China Unicorns, TOP 51 in Most Successful Unicorn Investors in the World
• 2022 China Healthcare Industry Investment and Financing Honor List by CHC Consulting Group and CITIC Securities - TOP 20 Best Healthcare Investment Institutions, TOP 20 Best Investment Institutions in Biomedicine - Qiming Venture Partners; TOP 50 Most Influential Investors - William Hu; TOP 15 Healthcare Glory Star - Oscar Zhang
Portfolio Highlights
ESG
• Xiaomi Technology (SEHK: 1810) plans to substantially curb its Greenhouse Gas (GHG) emissions dubbed Zero-carbon Philosophy. Xiaomi will achieve lower carbon emissions by researching and developing clean technologies, expanding electronic-waste management techniques, and implementing green operations and logistics.
• NEIWAI joined hands with Tencent Charity to support the Flower Girls charity project. For every set of special gift box designed for teenage girls sold, NEIWAI will donate a girl bra to the project. In addition, NEIWAI initiated a campaign to encourage users to donate their reward points to support the development of girls.
• The Founder of Pluslife Biotech, SONGYANG Zhou spoke at the International Health Industry Forum of Boao Forum for Asia, sharing ideas on how Next-Generation Molecular POCT shapes the healthcare environment in Low- and Middle-Income Countries. (Read More)
IPO
• MedSci (SEHK: 2415), a leading physician digital platform in China, successfully listed on HKEX main board. Qiming Venture Partners is the earliest investor and also the major investor as of the IPO. (Read More)
Financing
• Joes Future Food, manufacturer of China's first cultured meat, raised tens of millions of RMB in its Series A+ round of financing, exclusively invested by Qiming.
• XellSmart announced an expansion of its Series A round worth tens of millions of RMB. Qiming co-led its Series Pre-A and Series A rounds, and participated in Pre-A+round with a super pro-rata investment.
• BIOYOND ROBOTICS, an innovative company providing automation products and solutions to the life sciences industry, secured 200M RMB in Series A & A+ rounds with Qiming's participation. Qiming also led its Pre-A round.
• TriApex announced the completion of its Series C round of financing worth hundreds of millions RMB. Qiming invested in TriApex in November 2021.
Progress
• Hesai Technology (NASDAQ: HSAI) officially released the latest automotive-grade ultra-thin long-range LiDAR ET25 for the ADAS pre-installed mass production market. The company also obtained ASIL B certification for its ultra-wide view short-range lidar QT128 and passed the highest assessment level (AL3) of TISAX (Trusted Information Security Assessment Exchange). (Read More)
• Xiaomi 13 Ultra, the latest result of Xiaomi Technology (SEHK: 1810) and Leica's collaboration in further advancing mobile imaging technology was launched. Xiaomi Technology also unveiled the Mijia Smart Audio Glasses, which is the second product launched by Xiaomi ecological chain and SUPERHEXA following the Dual-Cam AR Glasses.
• Chuhang Technology launched its latest N-generation innovative product - invisible radar ART. This product redefines the physical form of automotive millimeter wave radar and delivers a new disruptive product design route to the industry.
• DeepWay rolled out its intelligent swap station at the Tianjin test site, the first self-driving commercial vehicle company in China to adopt the bottom swapping technology. At the station, it only takes 6 minutes to fully charge a heavy-duty truck.
• TigerGraph passed the audit of the LDBC SNB Business Intelligence workload on scale factors 100, 1000, and 10000, setting a new world record in scalability. (Read More)
• ZEGOCLOUD obtained ISO/IEC 27001:2013, ISO/IEC 27701:2019, and ISO/IEC 27018:2019 certifications, which assures international businesses, organizations, and partners in finance, healthcare, education, and other industries that they can confidently use ZEGOCLOUD SDKs and APIs.
• LanzaTech (NASDAQ:LNZA) manufactured CarbonSmart alcohol for the "Where My Heart Beats" perfume, a new fragrance for Gucci's The Alchemist's Garden collection launched by Coty. (Read More) LanzaTech also contributed to the CleanCloud™ foam of the sportswear brand On. (Read More)
• NEIWAI has introduced a new bra line designed for teenage girls, giving adolescent girls a comfortable option for their first bras.
• Dingdong Maicai (NYSE: DDL)'s first farm in Shanghai Pudong New Area was put into operation, spanning 178 acres with a modern vegetable greenhouse of 53,000 square meters. The digital management system has reached an advanced level in the industry, and the annual output is expected to be about 500 tons.
• New Horizon Health (SEHK: 6606) released the first testing data report of over 500,000 ColoClear® users, raising awareness for early screening which can help prevent colorectal cancer and gastric cancer.
• CanSino Biologics (SEHK:6185, SHSE:688185) announced that its bivalent COVID-19 mRNA vaccine has received approval for clinical trial in China. This marks the company's other major milestone to keep promoting the development of innovative COVID-19 vaccines and related clinical work.
• Belief BioMed announced that the patient dosing has been successfully completed in the phase III registrational trial of BBM-H901, the first blockbuster product independently developed and manufactured by BBM.
• Insilico Medicine announced that it has successfully discovered a potent, selective, and orally bioavailable small molecule inhibitor of CDK8 for the treatment of cancer using a structure-based generative chemistry approach enabled by Chemistry42. (Read More)
• Pluslife Biotech introduced its nucleic acid POCT solution to canine respiratory diseases: Pluslife Mini Dock and Pluslife CRQ Card.
• The implantation surgery of the new generation astigmatism-correcting intraocular lens was successfully completed at SinoUnited Health. SinoUnited Health promotes high-quality development in the treatment of cataract patients with astigmatism correction in China and helps domestic patients regain clear vision.
• Venus Medtech (SEHK: 2500) released the three-year clinical follow-up data of VenusA-Plus® Transcatheter Aortic Valve Replacement System-Retrievable Delivery System. As the first retrievable transcatheter aortic valve replacement product approved for marketing in China, VenusA-Plus® has ushered in the "Retrievable 2.0 Era" of aortic valve replacement in China. Venus Medtech also completed the first application of VenusP-Valves in the Netherlands.
• Gan & Lee Pharmaceuticals (SHSE: 603087) announced that its insulin glargine injection was approved for sale in Bolivia. It's also an important milestone for Gan & Lee Pharmaceuticals as a marketing authorization holder (MAH) for the first time in Latin America.
• Jacobio Pharma (SEHK: 1167) has received IND approval for its self-developed drug JAB-BX300 (LIF mAb) from the Center for Drug Evaluation (CDE) of China. Jacobio plans to initiate a Phase I/IIa advanced solid tumors clinical trial in China. (Read More)
• At the 8th Vascular Innovation Symposium, EndoNom Medtech successfully introduced the Fabulous® Thoracic Aortic Stent System, ushering in the TEVAR 2.0 era for the treatment of type B dissection.
• Alamar Biosciences unveiled its technology platform NULISA™, a novel automated ultrasensitive and highly multiplexed proteomics technology for liquid biopsy. (Read More)
• Asieris Pharmaceuticals (688176)'s subsidiary Hainan Asieris obtained the Drug Distribution License by the Hainan Provincial Drug Administration, which marks a critical step towards improvement in the quality of drug circulation services.
• Abbisko Therapeutics (SEHK: 2256) announced that its next-generation FGFR4 mutant inhibitor ABSK012 has been granted the orphan drug designation (ODD) by the US FDA for the treatment of Soft Tissue Sarcoma (STS).
• The latest phase I clinical study results of InventisBio (SHSE: 688382)'s self-developed KRAS G12C inhibitor D-1553 (Garsorasib) was published in the Journal of Thoracic Oncology, following the global presence at the 2022 World Conference on Lung Cancer.
• IntoCare Medical obtained the Certificate of Exported Commodity Brand 2023 as one of the enterprises recommended by China Chamber of Commerce of Medicines & Health Products Importers & Exporters.
• REUNION's Respacio®, China's first domestic radiotherapy protection and isolation hydrogel, and its clinical case study debuted at the China Radiation Intestinal Injury Research Collaboration Group Multidisciplinary Symposium.
• Infervision and the team of Professor Yang Qi from Beijing Chaoyang Hospital of Capital Medical University published a research paper on Stroke, the top journal in cerebrovascular disease research of the American Stroke Association.
• GYENNO SCIENCE obtained approval of BRAVO, a tableware and quantitative assessment device for Parkinson's patients suffering from tremors, and SKYWALK, a device for automatic recognition, dynamic intervention, and quantitative monitoring of gait freezing, by China's NMPA.
• Shukun Technology's Cerebral-CTA, a medical image management and processing system, was officially approved by the US FDA, following the FDA approval of another Digital Brain product CT Perfusion.
• The TrueExtensio® extension catheter independently developed by Insight Lifetech has officially obtained the Class III medical device registration certificate granted by China's NMPA.
Partnerships
• SUPERHEXA reached a collaboration with TeamViewer. The two companies successfully adapted Teamviewer Assist AR and Frontline software in SUPERHEXA's first enterprise-level AR glasses SVB1.
• Two of our portfolio companies Zai Lab (NASDAQ:ZLAB, SEHK:9688) and MediLink Therapeutics announced a strategic partnership and signed a global license agreement for a next generation antibody-drug conjugate program in oncology. (Read More)
• Belief BioMed partnered with Danaher Life Sciences and jointly launched an R&D laboratory. The two companies will have closer cooperation to promote the development of China's biopharmaceuticals industry, especially the gene and cell therapy drug industry.
• Pluslife Biotech and Diagen, a leading clinical laboratory supplier across the Nordic region, reached strategic cooperation on the molecular POCT industry and laboratory molecular detection solutions, jointly exploring the Nordic market.
• Venus Medtech (SEHK: 2500) has collaborated with AndraTec GmbH, as the exclusive distributor of AndraTec GmbH's high-quality vascular intervention products from AltoSa XL Balloon- and Optimus XL stent-family in Germany, which will benefit more patients.
• MEDx struck a partnership agreement with Twist Bioscience. MEDx will continue to release a variety of NGS products and services solutions. The company will further deepen its cooperation with its strategic partner Leica Biosystems to jointly promote the development and commercialization of companion diagnostics.
• Sino Biological (SZSE: 301047) reached a strategic partnership with MegaRobo Technologies. By leveraging their strengths in recombinant technology and intelligent automation, the two companies hope to develop new approaches to biomedical R&D.
• Berry Genomics (SZSE:000710) signed a strategic cooperation agreement with Bestnovo. With a focus on the high-throughput sequencing platform of Berry Genomics, both companies will integrate resources and leverage strengths in clinical application, technological innovation, channel expansion, and scientific and technological services, etc.
• Abbisko Therapeutics (SEHK: 2256) signed a strategic cooperation memorandum with AstraZeneca and several innovative pharmaceutical companies in Shanghai for the establishment of the Shanghai Yangtze River Delta Biopharmaceutical Industry Innovation Alliance.
• Tigermed (SZSE:300347, SEHK:3347) reached strategic cooperation with 7 clinical research institutes in the first quarter of 2023, to build professional and efficient clinical research teams and establish a first-class GCP research center.
• LaNova Medicines announced a research collaboration with LegoChem Biosciences (LCB) to evaluate a novel antibody drug conjugate (ADC) candidate for an undisclosed target expressed in solid tumors. (Read More)
• ACXEL and PTM BIO signed a cooperation agreement to provide advanced enabling tools and a full set of solutions for life science research.
Global Activity
• WeRide jointly participated in the 20th Shanghai International Automobile Industry Exhibition with Bosch and JMC Motors and showcased their co-developed advanced driving solution and Robovan. The company showed its Robobus equipped with autonomous driving technology at the Canton Fair.
• UBTECH Robotics participated in AORN Global Surgical Conference & Expo, showcasing its autonomous UV-C disinfection solutions that help deal with healthcare-associated infections.
• Several Mech-Mind Robotics' AI and 3D vision solutions are displayed at the International Trade Show for Intralogistics Solutions and Process Management LogiMAT, the biggest annual intralogistics exhibition in Europe.
• CanSino Biologics (SEHK:6185, SHSE:688185) participated in the World Vaccine Congress, showcasing the latest research progress of the world's first inhaled COVID-19 vaccine, mRNA COVID-19 vaccine and other development plans for its key technology platforms.
• At the ARVO Annual Meeting in the US, TriApex debuted its ophthalmology research findings involving animal models, AMD, dry eye, etc.
• Antengene (SEHK: 6996) has presented five posters at the American Association for Cancer Research Annual Meeting 2023 Meetings (AACR 2023).
Corporate Development
• APT Medical (SHSE: 688617) announced the expansion of its manufacturing site in Hunan Province with a focus on cardiovascular and peripheral interventional medical devices.
Insights
• ZEGOCLOUD's Co-Founder Kuk Jiang discussed how interested businesses can go about creating an AI plan that will boost their productivity and competitive edge on Forbes. (Read More)
• Dr. Alex Zhavoronkov, Founder and CEO of Insilico Medicine, wrote that the company's AI platform can identify existing drugs with the potential to be repurposed, design new drugs for known targets, find new targets, and design new molecules, in a BBC article. (Read More)
• During an interview with Genetic Engineering & Biotechnology News, Dr. Yuling Luo, Founder, Chairman, and CEO of Alamar Biosciences, sharing the company's groundbreaking achievements, as well as the protein biomarkers and proteomic analyses that Alamar Biosciences focuses on. (Read More)
Awards
• Hurun Global Unicorn Index 2023 - WeRide, Tuhu, Yuanxin Technology, Abogen Biosciences, UBTECH Robotics, Unisound, Viewtrix, Mafengwo, ROX Motor, APUS, Shukun Technology, Tongdun Technology, WeDoctor, Valgen Medtech, Belief BioMed, Shulan Health, Caidya, Desano, Infervision, HyperStrong, Tujia, Tungee, and Xiaoe Tech among others.
• 2023 TOP 100 Science and Technology Innovation Companies List by Zero2IPO Group and PEdaily - HyperStrong, Cornerstone Robotics, Mech-Mind Robotics, WeRide, and Yunji Technology among others
• 2023 TOP100 China's Future Unicorns List - GenLight MedTech, Sunyur Network , SH ECO Polymer, Tungee
• TOP 30 Annual Influential Business Mulan by China Entrepreneur - Ni Li, Vice Chairwoman of the Board of Directors and Chief Operating Officer of Bilibili
• 2023 Edison Awards™ - UBTECH Robotics' Smart Elderly Care Solution for Nursing Homes and efgartigimod, developed by Zai Lab's partner (Read More)
• 2022 China Intelligent Computing Technology Innovators by DeepTech - Huan Tan, Co-Chief Technology Officer of UBTECH Robotics and Linfeng Zhang, Co-Founder and CSO of DPTechnology
• 2023 Data Breakthrough Awards for Graph DBS Solution of the Year - TigerGraph (Read More)
• insideBIGDATA IMPACT 50 LIST for Q2 2023 - TigerGraph (Read More)
• 2023 Product of the Year Award by NAB Show - Insta360 ONE RS 1-Inch 360 Edition
• China's 2022 Important Medical Progress - Shenogen Pharma's Icaritin
• The 2nd TOP50 Innovative Biotech Companies List by KPMG China - Ark Biopharmaceutical, MEDx, Norm Medtech, and Pluslife Biotech
• 2022 China Healthcare Industry Investment and Financing Honor List by CHC Consulting Group and CITIC Securities - TOP 50 Most Influential Healthcare Companies - Yuanxin Technology, Berry Oncology, Insight Lifetech, Abogen Biosciences, SinoUnited Health, SceneRay, and Ark Biopharmaceutical; TOP 50 Healthcare Companies with the Most Investment Value - Vistel, Health Biotech, and Cornerstone Robotics; TOP 15 Best Emerging Healthcare Companies - GenLight MedTech and GluBio Pharmaceutical
• LinkedIn Global Talent Management Excellence Award - DPTechnology, Tigermed, Xiaomi Technology, Zai Lab, Bilibili, Meituan, Mech-Mind Robotics
Sources: Qiming Venture Partners, company press releases, media reports, etc.